United Airlines Wants to Win You Over With Free Food Trucks
For the next three weeks, United Airlines plans on winning over the hearts and stomachs of travelers with a new initiative: free dessert food, doled out of trucks parked outside its terminals. The airline is providing the free handouts on the streets of New York City and San Francisco, and you don't even have to buy a ticket or fly at all to enjoy the grub.
According to a United Airlines blog post, the company is doing this to promote its new international routes and destinations to Tel Aviv, Israel; Buenos Aires, Argentina; and Tokyo, Japan. It will serve up indigenous desserts from each of those countries as part of the promotion. There's a whole schedule to the various menus they'll be offering from now until mid-August at the New York truck:
From now through July 30 (Sunday): Promoting the airline's new nonstop service from Newark to Tel Aviv, the trucks will be serving rugelach and black and white cookies.
From July 31-August 6: To celebrate the new Newark route to Buenos Aires, the trucks will then switch up the menu to serve dulce de Leche donuts and coconut cream pineapple donuts.
From August 7-August 13: Finally, paying homage to Japan, the trucks will serve cherry donuts and Yuzu lemon zest donuts for one week to tout the Newark-to-Tokyo route.
San Francisco food truck will work a bit differently. The food truck will only tout the route between SF and Munich, Germany, throughout the entire promotion. As such, it will offer free horseshoe almond and apple crumb cakes from now until the promotion expires in August. That still sounds pretty damn tasty.
In New York, the trucks will be serving treats from 11am to 3pm during the week and on weekends. In San Francisco, you can get them from 10am to 4:30pm.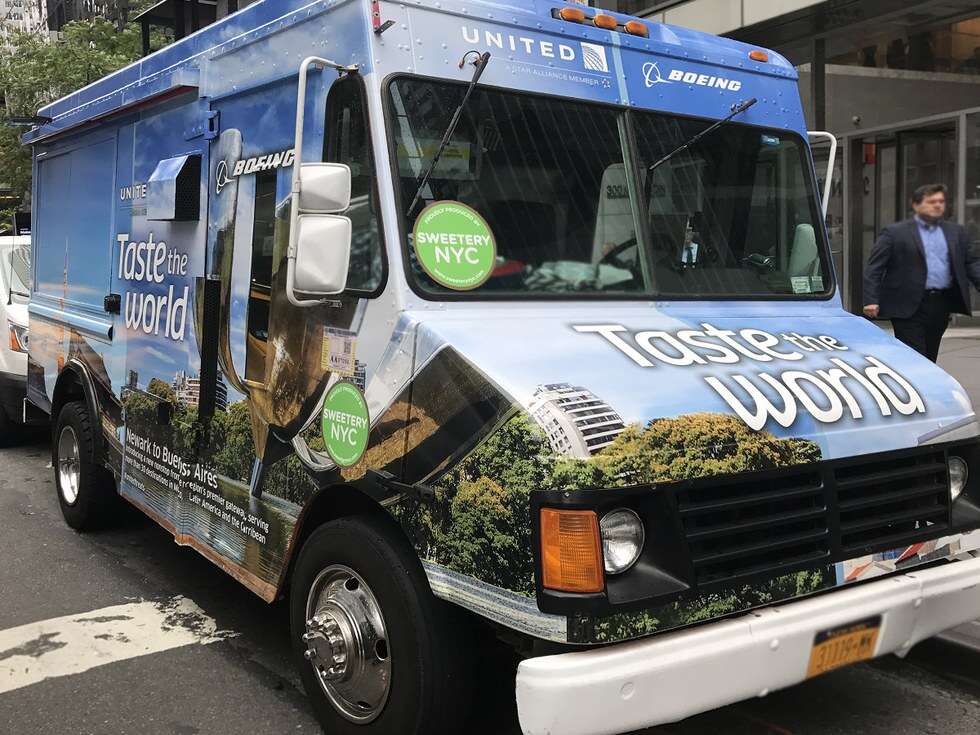 If you'll be in New York City or San Francisco in the next few weeks, be on the lookout for these food trucks in your neighborhoods. United Airlines confirmed to Thrillist that the trucks will be handing out around 2,000 of the treats every day, which is a lot of delicious sugar. If you're a planner, United also has a nice breakdown of where you can find them throughout the promotion (with locations subject to change). For New Yorkers, you can also follow the SweeteryNYC on Twitter to get the latest updates on that truck.
United Airlines has had to deal with some pretty rotten PR this year -- after an overbooking fiasco turned violent became national news. All in all, handing out free donuts and treats sounds like a pretty smart idea.
Sign up here for our daily Thrillist email and subscribe here for our YouTube channel to get your fix of the best in food/drink/fun.