United Is Blessing Us With Bigger Overhead Bins and Reduced Gate Crowding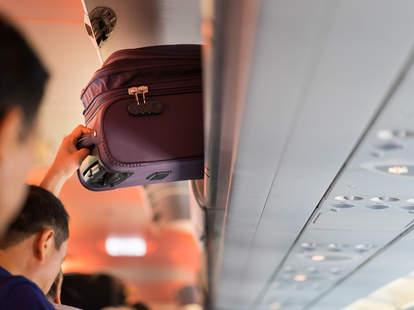 We've all been there: Flight delayed 45 minutes, $25 terminal kiosk sandwich in one hand, too-large carry-on bag in the other, phone dying, man announcing through a muffled speaker that passengers boarding [inaudible] between [inaudible] and [inaudible] can now [inaudible] to the left, sweating profusely, all hope lost. But United Airlines gets it. That's why the carrier's terminals are about to see some insane improvements. 
Firstly, we're talkin' larger overhead bins. This is especially attractive to the people who criticize those who wait in a line prematurely, then become shocked and confused when they're forced to check their teenie tiny gym bag at the gate.  By 2023, the airline plans to have enough room for every passenger to bring a rolling carry-on bag on 80% of its planes, According to the Chicago Tribune. That's practically a sext. 
Bigger bins aren't just great for more carry-on bags. You can also throw other stuff on top of the bag, like your extra plastic ziplock of toiletries, or your screaming newborn. JK.
The airline's senior vice president and chief customer officer Toby Enqvist told the Tribune that the drama surrounding the overhead bin space causes vigilant passengers to pack close to the gate during the boarding process. 
"It slows the boarding process, and it creates stressful interactions on board," Enqvist said.
United will also try new furniture layouts, AKA seating near outlets, baby!! No longer will you have to circle That One Stand like a desperate millennial shark.
But the most revolutionary parts of the revamp, in our opinion, are the kiosks. The airline plans to have kiosks for making new travel arrangements when shit hits the fan.
"Many experienced travelers have no problem getting on the app and getting the info they need, but about half of our customers only fly once or twice a year and don't feel comfortable with the app or don't use it," Enqvist said.
Thank you, United, for making the terminal scramble a little more tolerable. And also for that smoked chicken and cranberry pumpkin quinoa salad. You're daddy.
Sign up here for our daily Thrillist email and subscribe here for our YouTube channel to get your fix of the best in food/drink/fun.