Plane Makes Emergency Landing After Passenger Rubs Poop on Bathroom Walls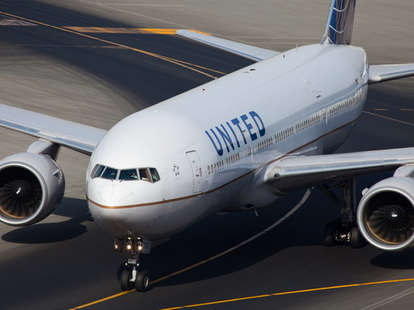 Shutterstock
Shutterstock
Of the myriad reasons a plane might divert from its normal route and make an emergency landing, an incident involving human excrement isn't something that'd normally come to mind. But this is exactly what happened for 245 customers onboard a United Airlines flight bound from Chicago to Hong Kong on Thursday evening.
Someone onboard the aircraft started rubbing poop on the bathroom walls mid-flight, causing enough panic and putridness to divert the aircraft to Anchorage, Alaska. Pooping in the wrong place, it seems, has swift consequences in commercial air travel.
According to Ted Stevens International Airport Police, the official cause of the premature grounding was a "passenger smearing feces everywhere." The perpetrator of the vile offense, who had recently been released from jail in Indiana according to reports, allegedly hit a couple of the aircraft bathrooms before attempting to stuff his shirt in a toilet.
Before he started with his poop-flinging exploits, the man was acting erratically, according to fellow passenger Tricia Mason, who said he was "shaking the seats all around him... [and] pouring soda and water on the floor and on laptops."
After the flight landed, the passenger was taken to nearby Providence Hospital for a psychological evaluation. No charges have been filed against the man, who is said to be in his early twenties.
The plane, on the other hand, was grounded overnight so it could be cleaned of the rogue passenger's excrement. It arrived in Hong Kong at around 7:00 PM local time on Friday, presumably free of any poop smeared on the wrong surfaces.
Sign up here for our daily Thrillist email and subscribe here for our YouTube channel to get your fix of the best in food/drink/fun.

Sam Blum is a News Staff Writer for Thrillist. He's also a martial arts and music nerd who appreciates a fine sandwich and cute dogs. Find his clips in The Guardian, Rolling Stone, The A.V. Club and Esquire. He's on Twitter @Blumnessmonster.