Everything You Need to Know About Universal's Halloween Horror Nights This Year
Halloween Horror Nights is back at Universal Studios Orlando and Universal Studios Hollywood.
Courtesy of Universal Studios Orlando
Courtesy of Universal Studios Orlando
If your preferred seasonal creep is Halloween decorations in September versus pumpkin spice in August, there's good news. Universal Studios' Halloween Horror Nights is already underway. It may be the most-anticipated annual Halloween event from any US theme park, running concurrently at Universal Studios Orlando and Universal Studios Hollywood.
The series of haunted houses and "scare zones" can be overwhelming if you're heading there for the first time. A lot is going on in addition to everything else that is already at the park. Plus, there are differences between what is taking place at Universal Studios Orlando versus Universal Studios Hollywood.
Here are all the questions you want to be answered before you put on a brave face and head into a house where you know you'll face icons of horror.
When Does Halloween Horror Nights Start?
Halloween Horror Nights started on September 2 at Universal Studios Orlando and on September 8 at Universal Studios Hollywood. They start on different dates, but both are going to wrap up on October 31. The 43 nights in Orlando this year is the longest the event has ever run.
How Much Are Tickets to Halloween Horror Nights
It runs a lot like any theme park. That is to say, it is confusing and there are a ton of ticket options. Just like the regular park, there are perks for people staying at Universal hotels, there are early admission passes, and there are express passes. Though, the details on the tickets vary between the Hollywood and Orlando locations.
Tickets for a single night in Orlando start at $80. Tickets for a single night in Hollywood start at $72. Though, the prices vary by date. the more in-demand a day is—like weekends or on Halloween—the more likely it is to cost a little extra.
Universal recommends buying tickets in advance. What company running an event wouldn't? However, it's good advice, because many nights are already sold out. Moreover, it recommends looking at weeknights or days in September if you're hoping to avoid crowds.
If you're staying at a Universal hotel, there are a few Halloween Horror Nights perks. The most important of those is that you'll get access to a dedicated entry gate, which lets you get to the attractions faster.
If you're going to be a repeat customer, there are Frequent Fear Pass options that get you multiple entries at a discounted rate. In Hollywood, the Frequent Fear Pass gets you access to a pile o' nights for $200. In Orlando, that pass costs $180 for 27 nights of access or $220 if you want the Frequent Fear Plus Pass, which gets you access on a possible 36 nights.
There is, of course, also an express pass. The Halloween Horror Nights Express Pass lets you skip the regular line once at each of the haunted houses. Plus, you'll get to skip the regular line "at participating rides and attractions" elsewhere as well.
There is also a Scream Early Ticket. That gets you into Universal Studios Florida at 3 pm and then you get into reserved Stay & Scream areas at 5 pm, so you're "already in the park when Halloween Horror Nights opens" for the night.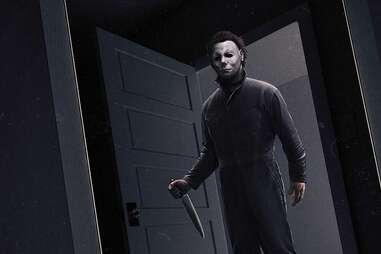 What Haunted Houses Are in Halloween Horror Nights at Universal Studios Hollywood?
Halloween Horror Nights at Universal Studios Hollywood has fewer houses and scare areas than its partner in Orlando. You'll find eight haunted houses and three scare zones at the California park.
Moreover, it has announced that it will have a Terror Tram featuring two Jordan Peele movies: Nope and Us. Additionally, for the first time, the Wizarding World of Harry Potter will have Death Eaters roaming the streets of Universal.
The Tram features The Tethered from Us, an army of angry doppelgangers who invade the Jupiter's Claim set from Nope. (The actual set from the movie was just added to the backlot tour.) The Terror Tram drops you in the studio backlot to wander through "Hollywood Harry's Halloween" that winds past the Psycho house and onto the War of the Worlds set before heading to Jupiter's Claim.
Here are the haunted houses you'll find in Hollywood.
The Weeknd: After Hours Nightmare: A trip filled with "grotesque characters and themes" inspired by The Weeknd.
Halloween: This Michael Myers-themed area takes you through the "dilapidated home and chilling moments" from the original 1978 film.
Universal Monsters: Legends Collide: This haunted house traps you in a battle between classic Universal monsters, including the Wolf Man, Dracula, and The Mummy. (It's the classic monsters and not the theoretical ones from the aborted Universal monsters reboot that produced just the one Tom Cruise movie.)
The Horrors of Blumhouse: This one features characters and scenarios from two recent Blumhouse films, Freaky and The Black Phone. It'll give you a good excuse to watch those movies at the hotel the night before.
Killer Klowns from Outer Space: Based on the camp-classic film, guests are trapped in a "frightening funhouse of murderous clown-like creatures."
La Llorona: The Weeping Woman: This one features the legend of La Llorona, mourning the children she murdered. I'm not positive on this, but she might blame you for the situation.
Scarecrow: The Reaping: "Mother Nature's retribution against the homesteaders for their sins of the past will be carried out by the farmland's scarecrows who have remained mute witnesses—and are now guardians of destruction for anyone who crosses their path."
Universal Horror Hotel: The ghostly hotel owner still haunts their old business and is looking for a few permanent guests.
The scare areas include:
El Pueblo del Terror: This is an extension of the "La Llorona" haunted house, which continues once you leave the house.
Sideshow Slaughterhouse: The workers at a "seedy carnival sideshow" roam the streets of New York, terrorizing guests.
Clownsawz: Demon clowns with chainsaws. Scary stuff.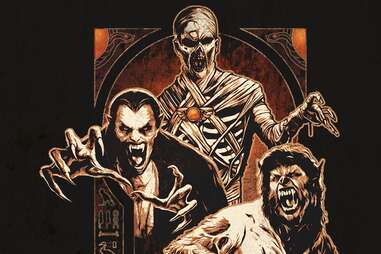 What Haunted Houses Are in Halloween Horror Nights at Universal Studios Orlando?
The event promises ten haunted houses and five scare zones in total. Additionally, you'll find two live shows and a special menu of Halloween-themed food.
The haunted houses in Orlando feature a few repeats from the Hollywood park, including The Weeknd: After Hours Nightmare, Halloween, Universal Monsters: Legends Collide, and The Horrors of Blumhouse. In addition, you can check out:
Spirits of the Coven: This one and the next five aren't themed after artists or specific films. They're made by the "diabolical masterminds of Universal Orlando's Entertainment team." This first features "a coven of seemingly beautiful flapper witches in a lively 1920s speakeasy."
Bugs: Eaten Alive: The name evokes Fear Factor vibes, and that's fairly accurate. Expect to see a lot of bugs in here. If you still have nightmares about Jeff Goldblum in The Fly, you may want to avoid this one.
Fiesta de Chupacabras: You travel through a "colorful village" in an attempt to escape the chupacabra. If you don't know what that is, you're about to find out.
Hellblock Horror: Monsters, monsters, and monsters.
Dead Man's Pier: Winter's Wake: You'll find "undead fishermen in the watery graves" here.
Descendants of Destruction: You're running through "subway tunnels of an abandoned, toxic city where mutated humans are fighting for survival." Sounds a little like you're in a reboot of Resident Evil.
The scare zones say you'll find "scareactors"—scare actors? What... oh! like "characters," I get it—in the fog, looking to scare you throughout the park.
Horrors of Halloween: You're facing down The Pumpkin Lord and "his devious subjects." No, it's not Jack Skellington. Don't call it that. It's the Pumpkin Lord.
Scarecrow: The Reaping: Evil scarecrows gonna be evil. What'd you expect?
Sweet Revenge: This one says you'll run from "bloodthirsty trick-or-treaters during a terrifying 1950s Halloween parade gone wrong."
Graveyard: Deadly Unrest: It's a graveyard. Connect the dots. Things are going to get creepy.
Conjure the Dark: An evil sorceress conjures an army of monstrous creatures.
Lastly, you'll find a pair of live shows called "Ghoulish! A Halloween Tale" and "Halloween Nightmare Fuel Wildfire," the latter of which is a sequel to last year's "Halloween Nightmare Fuel."
What Rides Are Open During Halloween Horror Nights at Universal Studios Hollywood?
The announcement says that select attractions are still open throughout the run of the event. That includes Jurassic World—The Ride, Transformers: The Ride-3D, Revenge of the Mummy—The Ride, and The Simpsons Ride.
The Wizarding World of Harry Potter and its rides are also open during Halloween Horror Nights. As mentioned above, that theme area will also have Death Eaters roaming the streets of Hogsmeade for the first time ever.
In Orlando, there are two parks. Islands of Adventure is open as usual. Meanwhile, only a handful of rides are still operating next door at Universal Studios Florida. There, you can still ride Revenge of the Mummy, Harry Potter and the Escape from Gringotts, Men in Black: Alien Attack, Transformers: The Ride-3D, and Hollywood Rip Ride Rockit.
Even if you favorite ride isn't running, though, there is plenty to take if you're heading to either Universal park during Halloween Horror Nights.