Look Out Disney, Universal Is Opening a Massive New Theme Park in Orlando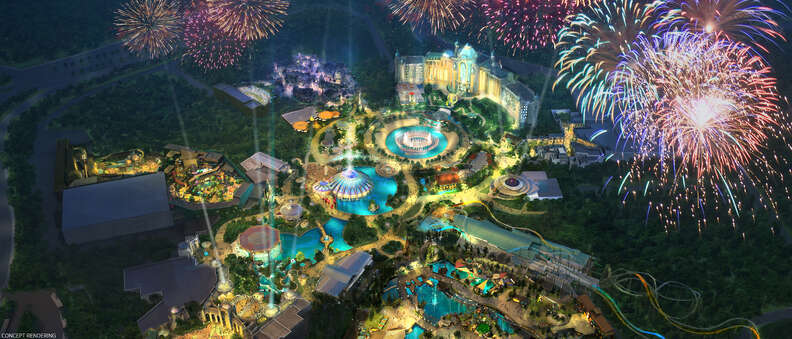 Courtesy of Universal Orlando
Courtesy of Universal Orlando
Universal Orlando has stood in the shadow of daddy Disney since the dawn of amusement park Florida; Magic Kingdom, for example, gets twice as many visitors as Universal's theme park every year. That's not to say Universal isn't well endowed (ahemmmm, the Wizarding World of Harry Potter), it's just a bit smol in comparison. Well, move over daddy, because Universal's theme park footprint is about to get a massive growth spurt -- to nearly twice its size.
Right now Universal Orlando is comprised of Universal Studios theme park, Islands of Adventure, and the Volcano Bay water park. There's also a 750-acre plot of land that's been hanging out for a while, which Universal Orlando now confirms will be the site of their newest "ambitious" theme park: Epic Universe!!!!!!! (emphasis added because, well, you have to with that name).
OK, yeah, that's a pretty vague name, as is the vision the company shared in a press release: "create an entirely new level of experience that forever changes theme park entertainment." Additionally, Universal said Epic Universe "will take guests on a journey where beloved stories expand into vibrant lands." Still not a lot of questions answered here, but…
Epic Universe will be a few miles away from Universal's CityWalk, located south of Sand Lake Road and east of Universal Boulevard.
All we know for sure is that Epic Universe will contain rides, an entertainment center, restaurants, hotels, shops, and all the many other things that make a great theme park so expensively self-contained. Universal is also investing $160 million to extend the area's Kirkman Road into the new park. To be clear, Universal didn't say anything specific about what kinds of rides and attractions you can expect, so you'll just have to squint into the above concept rendering and use your imagination for now.
Last but not least: jobs, jobs, jobs. Universal Orlando will employ another 14,000 "team members" to staff Epic Universe, and its $302 million state and local tax contributions are expected to double once the park opens. Who's your daddy now?
Sign up here for our daily Thrillist email and subscribe here for our YouTube channel to get your fix of the best in food/drink/fun.