Universal Studios Orlando Is Reopening. Here's How They're Protecting Visitors.
Theme parks are trying to get back to normal, even if things aren't back to normal.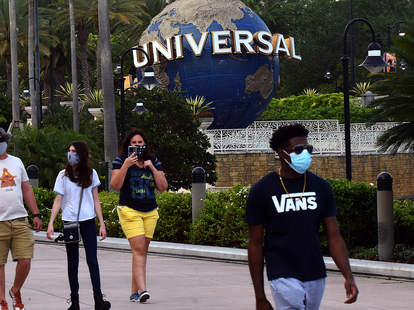 Paul Hennessy/Echoes Wire/Barcroft Media via Getty Images
Many scientists say the United States isn't in a place where it should be reopening major gathering places as thousands of people continue to die daily from COVID-19. Nonetheless, it's happening in many places, including some places where people typically gather by the thousands. That includes theme parks, some of which will be opening to the public in June. 
Over Memorial Day weekend, Universal announced that the Orlando theme park, which includes Universal Studios Florida, Universal's Islands of Adventure, and Universal's Volcano Bay, will open again on Friday, June 5. It remains to be seen how many people think it's a good idea to hit a theme park during a pandemic, but the home of the Wizarding World of Harry Potter is putting new procedures and requirements in place in an attempt to protect parkgoers. 
It's important to note that Universal's announcement acknowledges that the procedures can't completely stop the transmission of COVID-19. "Note that any public location where people are present provides an inherent risk of exposure to COVID-19," the announcement said, "and we cannot guarantee that you will not be exposed during your visit."
What is Universal Studios doing to protect visitors?
Anyone heading to the park will be required to wear a face mask. The park will have masks available for purchase onsite, of course. Masks will be required on rides, but not on "attractions that include significant amounts of water as part of the experience, as well as Volcano Bay's slides and pools." That requirement is waived for children under the age of two.
Additionally, all parkgoers will have their temperature taken upon arrival, and "guests with a temperature of 100.4 degrees or greater will not be admitted." Though, it should go without saying that if you're feeling sick, you should stay home.
At the time of publication, the park had not responded to questions about how social distancing will be observed on rides. However, the announcement states that there will be "select locations including prior to boarding ride vehicles" that revelers will be required to apply hand sanitizer.
Capacity at the park will also be limited to avoid the kind of packed scenes that are a hallmark of the theme park experience. (Thus the prevalence of those expensive and, unfortunately, worthwhile "Fast Pass" tickets.)
Behind the scenes, the company says it's "increasing [its] already-aggressive cleaning and disinfection procedures, and frequently cleaning all high-touch surfaces." Staff will be trained on new procedures, and, like guests, they'll be required to wear face masks and undergo a temperature check upon arrival.
What other policies is Universal Studios putting in place?
In addition to the above rules, the theme park is putting guidelines in place that are aimed at preventing the spread of coronavirus. These are best referred to as guidelines because it's not entirely clear how they'll be enforced. 
Nonetheless, the park is encouraging guests to wash their "hands with soap and water often for at least 20 seconds." It's also asking visitors to observe social distancing procedures by keeping six feet between their group and others. In some instances, there will be markings on the ground to help guide social distancing efforts.
It's also encouraging thrill-seekers to get the park's app, which allows for contact-free food ordering. It'll also grant access to a Virtual Line for "select attractions" that will allow you to get in line without actually getting in line.
It's worth checking with the park prior to going if you decide the risk is worth it. Details are still being sorted on certain policies, and there are vague details that haven't been confirmed yet. For instance, the site's FAQ notes that not every ride is going to be open, but there's no list yet of what rides are available and which aren't.
Sign up here for our daily Thrillist email and subscribe here for our YouTube channel to get your fix of the best in food/drink/fun.