Today's Forecast: Beautiful. Tomorrow's Forecast: Shitty.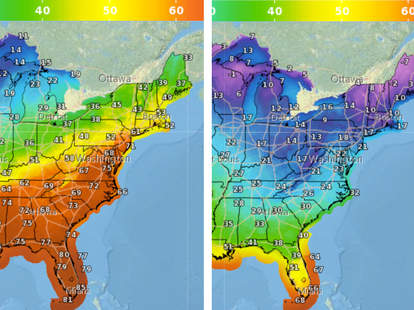 If you live in certain Northeastern cities -- such as New York and Philadelphia -- the weather today is warm enough to make garbage stink in the sun. Tomorrow will be different, however, as winter storm Niko is expected to hammer much of the Interstate 95 Northeast corridor tonight. The storm should pelt NYC with several inches of snow, emboldening the difference between today's premature spring temperatures and tomorrow's regularly scheduled shitty February weather.
So what the hell is actually happening, here? Is this a freak-weather pattern, produced by man-made climate change? After all, temperatures crested in NYC today at 62 degrees, beating the record set in 1965.
According to the New York Times, the sudden shift has nothing to do with excess carbon floating in the atmosphere, so East Coasters shouldn't worry. According to Tim Morrin, a meteorologist interviewed by the Times, the weather is "unusual, but it's certainly not unprecedented." The paper also interviewed New York City weather historian Steve Fybish, who noted that snowstorms have preceded abnormally warm days and vice-versa, over the years. Climate change be damed. 
While the weather in New York was 30 degrees warmer today than seasonal averages for February 8, the impending storm is prompting people in the city to prepare. The National Weather Service issued a storm warning for the city and surrounding area, warning of snowfall between 8 to 12 inches tomorrow, according to Patch.
New York won't be the only city affected, as the National Weather Service also predicts "significant flight delays" in Boston and Philadelphia as a result of the storm.
In fact, much of the East Coast is bracing for some heavy snow. From The Weather Channel:
"Winter storm warnings are in effect for all of southern New England, southward into eastern Pennsylvania, New Jersey, and parts of northern Delaware and northern Maryland. This includes the Boston, Providence, Hartford, New York City and Philadelphia. A blizzard warning has been issued for Cape Cod, Martha's Vineyard and Nantucket in Massachusetts."
So, go outside before the weather invariably turns into an icy hellscape. You'll be glad you did.
Sign up here for our daily Thrillist email, and get your fix of the best in food/drink/fun.
Sam Blum is a News Staff Writer for Thrillist. He's also a martial arts and music nerd who appreciates a fine sandwich and cute dogs. Find his clips in The Guardian, Rolling Stone, The A.V. Club and Vice. He's on Twitter @Blumnessmonster.