These Airports Have the Best Lounges in the U.S.
Make the time you are stuck in an airport a bit less terrible by picking the right lounge.
If you've ever had the pleasure of hanging out in an airport lounge, you'll know that not all exclusive lounges are created equal. Fortunately, Upgraded Points has done the leg work for the rest of us, determining which lounges are great and which aren't. The study analyzed and ranked 225 lounges from the 50 largest US airports based on factors that include amenities, dining options, lounge saturation, customer ratings, and operating hours, and then ranked which airports offered the best lounges to travelers.
"Airport lounges used to be thought of as exclusive places for elite flyers," said Alex Miller, Upgraded Points founder, in a statement. "But over the last several years these lounges have become a popular attraction for all types of travelers, particularly those dealing with layovers and flight cancellations."
Based on the study, the following airports were ranked at the top:
1. Miami International Airport
2. LaGuardia Airport
3. Los Angeles International Airport
4. Dallas-Fort Worth International Airport
5. Ronald Reagan Washington National Airport
You can check out the graph below, which gives more information about the ranking.
Upgraded Points also ranked which operators have the best lounges overall, and American Express, Plaza Premium Group, and Airport Dimensions came in as the top three.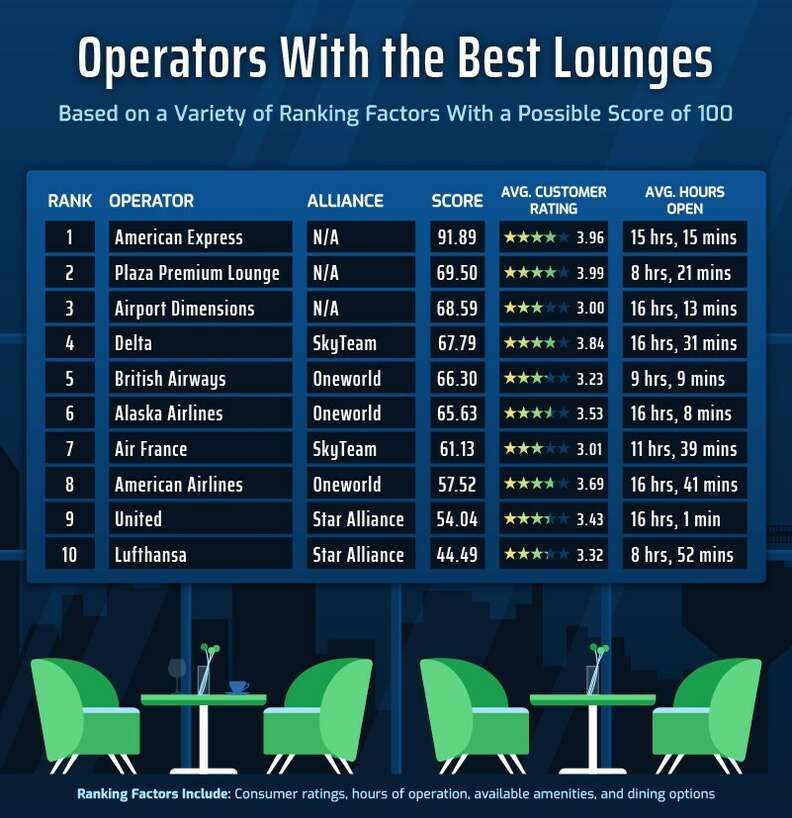 You can check out the complete study, scores of different lounges, and everything you need to know about the best places to spend your time on a layover at UpgradedPoints.com.