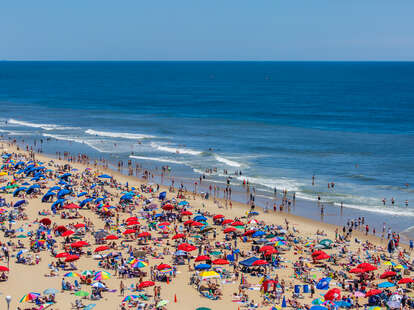 There are few better ways to enjoy the hell out of summer than at a beach -- lounging with friends, splayed out in the sand, occasionally splashing around in the waves to keep cool. It's a refreshing respite from the heat and a nice way to revel in some nature all at the same time. But you may want to keep a closer eye on your go-to beach's water conditions now that a new report shows more than half the beaches in the US have been deemed unsafe for swimming at least one day per year due to high pollution levels.
A new study, conducted by the advocacy groups Environment America and Frontier Group, found that more than half of the beaches in coastal states, the Great Lakes region, and in Puerto Rico were found to contain levels of bacteria beyond what's considered acceptable by the Environmental Protection Agency (EPA) for at least one day during 2018. In other words, there was at least a brief period when they were too nasty for safe swimming.
The study used national data from periodic water sample testing at 4,523 beach sites in 29 states and found 2,585 of them measured unsafe bacteria levels at least once. What's more, they determined runoff pollution and fecal matter were the biggest source of the problem. Just something to think about next time you're toweling off after a dip.
If you're curious how beaches in your area fared, here's some of their specific regional data.
Gulf Coast beaches: 330 (86%) of the 385 sites tested were unsafe for at least one day in 2018.
East Coast beaches: 1,134 (48%) of the 2,372 sites tested were unsafe for at least one day in 2018.
West Coast beaches: 571 (67%) of the 850 sites tested were unsafe for at least one day in 2018.
Great Lakes beaches: 384 (69%) of the 559 sites tested were unsafe for at least one day in 2018.
Of course, dirty beaches are not a new phenomenon by any stretch, but it is somewhat surprising to see the scope of the pollution around the country right now. Still, considering the threshold was that a beach be deemed unsafe for just a single day, it's not as if they're all teeming with raw sewage all the time. There were 605 beaches, though, where water was found to be unsafe on 25% of the days sampled, which is pretty alarming.
As Gizmodo points out, bacteria-infested waters can lead to all manner of illnesses, from ear or eye infections to gastroenteritis, which has many symptoms, all of them unpleasant.
All things considered, the odds are in your favor that if you're visiting a beach in America this summer, you'll be splashing in perfectly safe water. Public pools, on the other hand, may be a different story.
h/tGizmodo
Sign up here for our daily Thrillist email and subscribe here for our YouTube channel to get your fix of the best in food/drink/fun.