This Airline Bumped More Passengers Than All U.S. Airlines Combined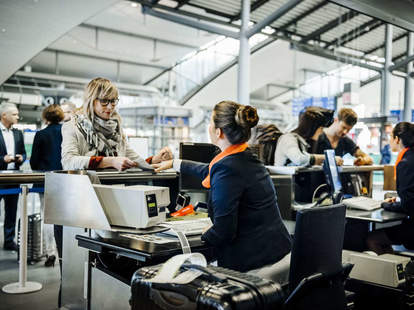 Earlier this month, American Airlines introduced major changes to its bumping policy. A move that, unfortunately, will mean lower compensation rates for passengers. But much like my own post-holiday shopping cleanse, it looks like the carrier is merely cutting back after spending too much.
In fact, American Airlines bumped more passengers this year than all other airlines combined, according to the US Department of Transportation. Per the report, 3,400 travelers were switched to later flights between July and August alone. In the same time frame, Southwest reported only 314 bumps, United offered 15, and Delta had zero.
Ross Feinstein, a spokesperson for the airline, told The Dallas Morning News that the excessive number of bumps is directly correlated to one particular aircraft. The airline grounded two dozen of its Boeing 737 Max planes following a federal mandate, Travel & Leisure reports. Delays were also attributed to contract negotiations with the mechanics union, causing a "work slowdown," among other factors.
"We definitely want to drive down the number of involuntary denied boardings since we know it has an impact on our customers," he added.
However, according to a recent study conducted by UpgradedPoints, American isn't the only guilty party. The research, which includes data on involuntary denied boardings from 2018, points the finger at Frontier. The budget-friendly carrier is the most likely to bump -- with the highest number of involuntary denied boardings per 100,000 passengers, averaging 6.28. Spirit is, unsurprisingly, a close second.
Moral of the story here? Maybe fly Delta and eat the extra cost?
h/t Travel & Leisure
Sign up here for our daily Thrillist email and subscribe here for our YouTube channel to get your fix of the best in food/drink/fun.