Chicago Is Getting a Pizza Museum and New Yorkers Are Pissed About It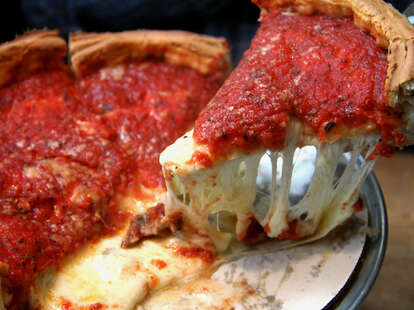 The world is tearing itself in two. No, it's not a line between Democrats and Republicans or even between Slytherin and Gryffindor. The age-old debate between New York and Chicago-style pizza has reignited after last week's announcement of a U.S. Pizza Museum coming to Chicago's South Loop.
The museum, created by Kendall Bruns, is highlighting America's sweeping pizza obsession through memorabilia. New Yorkers have had a strong reaction to the announcement. The logic goes that if anyone is going to play host to the U.S. Pizza Museum, it should be the home of the pizza rat.
The rage has been boiling over on social media even though it wasn't created by the Noid or another nationally recognized pizza luminary. Bruns collected memorabilia and wanted to display it so everyone can enjoy it. The museum's state goal is "to inspire curiosity and new ways of thinking about the rich history and recent developments in the world of pizza by collecting, preserving, interpreting, and exhibiting pizza-related items." Ultimately, Bruns lives in Chicago, reports the Chicago Tribune, and so the museum does, too. It wasn't the nefarious work of Thanos or a secret pizza cabal looking to rile up New Yorkers.
Nonetheless, the pizza rage was real.
Of course, there were folks in Chicago who were having a fine old time seeing how upset people were about the situation.
Still, others raised their hand to remind people in the U.S.'s first and third most populous cities that there are other pizza styles out there.
Nonetheless, the U.S. Pizza Museum sits in Chicago, and it opens on August 10. Tickets are free for a limited time.
Sign up here for our daily Thrillist email and subscribe here for our YouTube channel to get your fix of the best in food/drink/fun.

Dustin Nelson is a News Writer with Thrillist. He holds a Guinness World Record but has never met the fingernail lady. Follow him @dlukenelson.