New Report Reveals the States With the Worst Drivers in America
Maybe you're the problem, after all.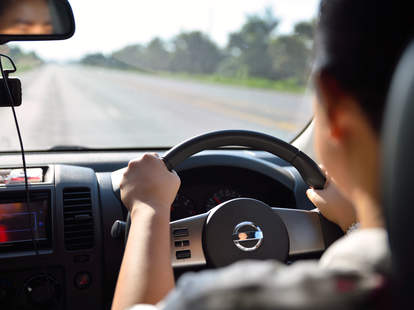 Photoongraphy/shutterstock
I know what you thought when you read this headline: New Jersey. But it turns out being aggressive, impatient, unpredictable, and reckless doesn't earn you the title of "state with the worst drivers" (can you tell I'm from New York?). According to the finance website SmartAsset's list of states with the worst drivers, NJ is actually in a three-way-tie for 36th place. Their pizza is still bad, though. 
SmartAsset created this list with four key metrics in mind: percentage of drivers who are insured, number of driving under the influence (DUI) arrests per 1,000 drivers, number of fatalities per 100 million vehicle miles driven, and how often residents Google terms related to speeding tickets and traffic violations... if this list came out when I was 17, I'd have carried my state to the top.
Without further ado -- and with a whole lot of snickering -- here are the states with the worst (and best) drivers in the US:
The worst drivers:
1. Mississippi
2. Nevada
3. Tennessee
4. Florida
5. California
6. Arizona
7. Texas (tie)
7. South Carolina (tie)
9. New Mexico 
10. Alaska
The best drivers
1. Massachusetts
2. Utah
3. Nebraska
4. Vermont
5. Maine
6. New York (!) 
7. Connecticut
8. Ohio (tie)
9. Kansas
10. New Hampshire 
Check out the full report and give your Boston friends a pat on the back. Massachusetts ranks within the best 10 states for three of the four metrics that were considered, and has the fewest fatalities per 100 million miles driven. 
Now onto the key findings for the worst states, which are a major bummer. The worst state was Mississippi for the third year in a row. This is largely due to the number of fatalities and the number of drivers who are insured. Drivers in Nevada and Tennessee, who came in second and third respectively, Googled a concerning amount of ticket-related keywords in 2020. Nevada ranks eighth-worst for DUI arrests, also, and Tennessee's data suggests that a full one-fifth of drivers on the road are uninsured.
Florida earned the No. 4 spot for having the lowest number of insured drivers in the US. Data does not confirm nor deny that Florida Men are to blame. 
Sign up here for our daily Thrillist email and subscribe here for our YouTube channel to get your fix of the best in food/drink/fun.
Ruby Anderson is a News Writer at Thrillist. Send your tips to randerson@thrillist.com.