It's not even May, but abnormally warm weather is spreading across much of the eastern United States. If you notice any bees foraging for pollen or flowers swaying in the wind, it's because spring-like conditions appeared faster this year than you can say Punxsutawaney Phil.
A series of new maps produced by the US Geological Survey shows how swiftly winter dissipated throughout a broad swath of the country this year, prompting an early spring from coastal California through Ohio and Southern Pennsylvania.
Recommended Video
Thrillist's Best (and the Rest): Traveling With a Partner vs. Traveling in a Big Group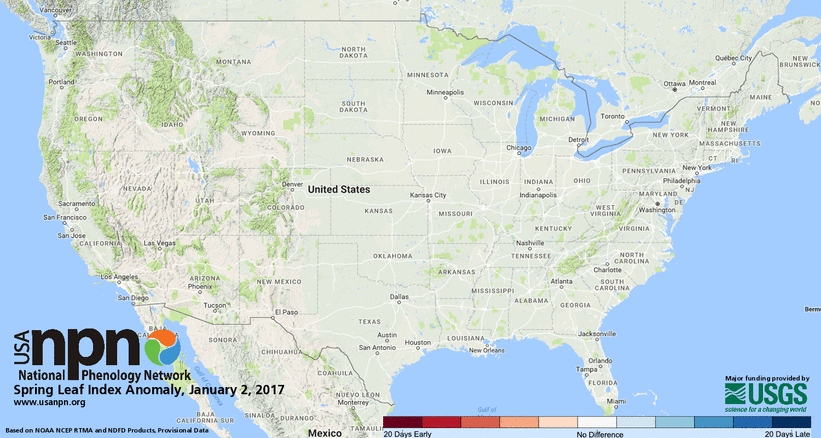 USGS
Researchers examined plant phenological data -- changes in the leafing and blooming patterns of plants -- to mark their findings. Using Spring Indices -- "models based on nationwide field observations collected about when enough heat has accumulated to initiate leafing and blooming in lilacs and honeysuckles"-- scientists concluded that spring hit about 2-3 weeks early this year.
While you may be jazzed by getting to wear shorts and flip-flops on a Saturday afternoon a few weeks earlier than usual this year, the consequences of such a climate shift are not good. An early spring "poses significant challenges for planning and managing important issues that affect our economy and our society," said USGS scientist Dr. Jake Weltzin. It can also usher forth a surge in disease carrying bugs like ticks and mosquitoes, a more volatile pollen season and a higher likelihood of plant damage.
And if the global heat records shattered in 2016 are any indication, premature spring seems and ever-more likely prospect going forward.
Sign up here for our daily Thrillist email, and get your fix of the best in food/drink/fun.