Vegan Kentucky Fried Chicken is Coming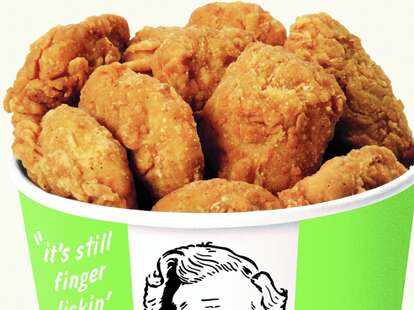 Two roads diverged at a fast food wood, and KFC-- KFC took the one less traveled by. And that has led to vegan fried chicken.
Meat substitutes are growing in popularity and it shows, especially now that KFC is partnering with Beyond Meat to give you Beyond Fried Chicken. Starting August 27, vegan chicken nuggets and boneless wings will be released in Atlanta, at a restaurant near SunTrust Park.
Complimentary samples will be given on the release day, between 10:30am and 6:30pm. Here's the address:
2637 Cobb Pkwy South East, Smyrna, Ga.
This release is old news for the UK. The restaurant chain already started testing plant-based substitutes overseas last year after Public Health England put their foot down, and KFC promised a 20% reduction in calories by 2025. Now the feedback given by consumers at the Atlanta location will help determine whether KFC releases Beyond Fried Chicken nationwide.
KFC US president and chief concept officer Kevin Hockman told USA Today that people trying the "meat" won't just say it tastes like chicken, they are "going to be amazed and say, 'it tastes like Kentucky Fried Chicken!'" In the age of meat experimentation, all we can do is trust.

And If you're wondering what the difference is between the impossible burger and beyond meat, you can read about it here. If you're wondering why in the world you'd ever try vegan fried chicken, read about climate change literally anywhere.
Sign up here for our daily Thrillist email and subscribe here for our YouTube channel to get your fix of the best in food/drink/fun.