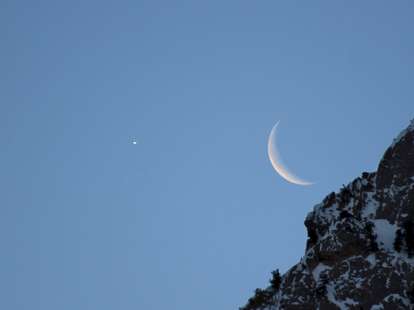 Venus has been a faithful evening friend for a good while now. But that's about to change. The Earth's sister planet will be leaving the evening sky very soon.
It was just a couple weeks back, in late April, that Venus was at its brightest point for the year, seen in the western sky just after sunset. It'll keep hanging out low in the west through the end of May. But on June 3, it'll pass between the Earth and the sun, transitioning to being visible in the eastern sky just before sunrise.
It's a beautiful sight right now, and easy to spot because Venus is the third brightest object in Earth's skies after the sun and moon. For much of the US, at the start of May, you'll be able to find the planet for up to three hours after sunset.
Every day in May, you'll see the planet -- a crescent right now -- dip lower and lower toward the horizon until it disappears.
If you've got a telescope, it's a great time to dust it off. Venus is moving closer to Earth, so its disc size is increasing as its phase is shrinking. You'll be able to see it as a crescent through your telescope because of this, and a pretty large one at that. Though, as noted by EarthSky, you'll get a better view of the crescent if you can spot it at twilight or even during the daytime sky. The glare off of the planet is significant and can obscure your view of the crescent shape.
Sign up here for our daily Thrillist email and subscribe here for our YouTube channel to get your fix of the best in food/drink/fun.