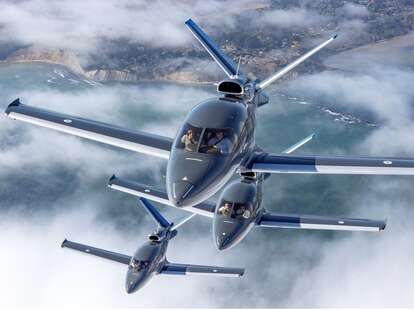 Courtesy of VeriJet
Courtesy of VeriJet
For most people, it's probably safe to say that flying private is a bucket list item. So, perhaps it's not surprising that a private jet service is offering new travel experiences to match the special occasion.
VeriJet, which recently expanded into to 5,400 American airports, is offering the unique trips, dubbed "Jet Safaris." The flights take passengers to witness meteor showers—and even polar bear migrations—from 31,000 feet up, according to a report by Travel & Leisure.
"The best use of VeriJet Vision Jets is to access airports where other jets fear to tread, not only providing direct service in daily use, but enabling extraordinary experiences and adventures in remote parts of the planet off the beaten path," Chairman and CEO Richard Kane told Thrillist.
While the price tag might be a bit hefty at around $3,000 per hour, the experience appears to be worth the cash. Kane's personal favorite Jet Safaris include the Churchill Manitoba and Hudson Bay Trip, which allows you to witness polar bear migrations in real life, as well as the Deep Caribbean getaway, with visits to Thunderball Grotto, swimming with pigs, and a sail to Virgin Gorda and the baths.
"The plane makes a great aerial photography and flight seeing platform," Kane added. "So you are seeing the magnificent desolation of the Hudson Bay or the turquoise waters of the Caribbean. We can usually spot pods of dolphins, whales, and sharks."
Megan Schaltegger is a staff writer at Thrillist.