This Dream Job Will Pay You $120,000/Year to Live at Luxury Beach Resorts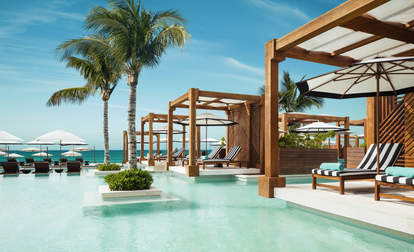 Here's an unfortunate truth: Jobs suck even more than school sucks. Even if you're paid a bunch of money, summer breaks are over and you can't stuff anyone in a locker without getting fired. A single job, however, has risen as the sole one in all the world not to suck -- it's being billed as the "World's Best Job," which is hard to refute -- and you have a chance to make it yours. 
That job is brand ambassador for Vidanta, "Mexico's leading luxury resort company," and your charge when you get the dream gig will be to hang out at luxury resorts in Mexico for a year. For your trouble, you will be compensated $120,000, plus travel expenses and dining credits. These resorts are in places like Nuevo Vallarta, Riviera Maya, Los Cabos, Acapulco, Puerto Peñasco, and Puerto Vallarta -- aka places you would normally pay to be, but you'll be getting paid to be there. Which objectively doesn't suck.
COURTESY OF VIDANTA MEXICO
While you're traveling from resort to resort, you'll get breakfast in bed, you'll relax at spas, you'll wear those weird little golf gloves at the Jack Nicklaus Academy of Golf, dance at OMNIA Los Cabos, and generally hang out near pools and drink. When you're not relaxing, you'll also be hanging out with turtles, zip-lining through the Riviera Nayarit jungle, swimming with whale sharks in the Caribbean Sea, parasailing, going on art walks, learning about the El Pinacate Biosphere Reserve, stargazing by the Sea of Cortez, and tasting dishes from Mexico's superstar chefs.
You'll also undergo "extensive employee training" meant to furnish you with skills and insights that'll come in useful throughout your career -- presumably this would be most applicable in the hospitality industry -- and generally become conversant in the art of social influencing and being a brand ambassador, according to the company.
COURTESY OF VIDANTA MEXICO
"Considering all of Vidanta's impressive resort amenities including gourmet dining, high-end spas, designer golf courses and our exclusive entertainment partnerships with Cirque du Soleil and Hakkasan Group, it's an understatement when we say that the 'perks' of this position are endless," said Iván Chávez, Executive Vice President, Grupo Vidanta in a press release. "In addition, the lucky applicant will fully immerse themselves in each of our resort destinations; from uncovering ancient Mayan ruins, hidden eateries and underwater cenotes to discovering the hottest new restaurants and nightclubs while attending the biggest shows and entertainment offerings in the area, this is truly the opportunity of a lifetime."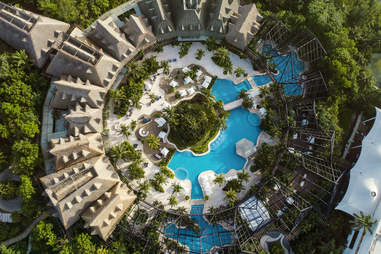 COURTESY OF VIDANTA MEXICO
To apply, head over to www.worldsbestjob.com. There, just submit your resume, plus an optional 60-second video making a case for yourself, by Sunday, October 21 at 11:50pm CDT. There isn't technically any experience required, but "the ideal candidate will have previous sales or hospitality experience, a warmth in interacting with others, be willing to relocating to Mexico and have a genuine love for travel and new experiences." Luckily, that sounds just like you.
So, go forth and get yourself the only job in the world that doesn't suck.
Sign up here for our daily Thrillist email and subscribe here for our YouTube channel to get your fix of the best in food/drink/fun.