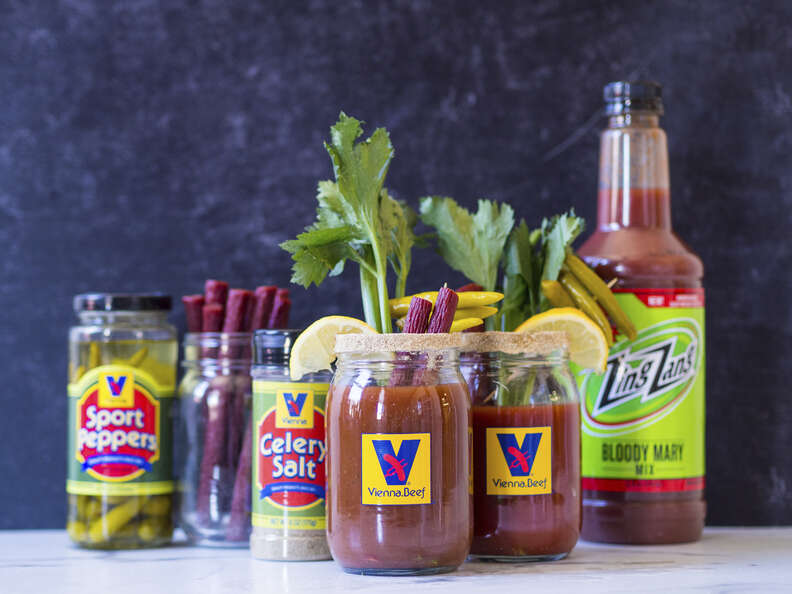 The greatest part about a Bloody Mary is that you get a snack along with it. Pickles, celery, bacon, sometimes even a cheeseburger. Now, Vienna Beef is turning the brunch cocktail into a full-fledged snack. Well, sort of.
The Illinois-based brand is unleashing a hot dog-inspired Bloody Mary kit—including the Chicago dog's iconic celery salt and sport peppers for topping, of course.
"We've loved seeing your Bloody Mary recipes throughout the years, with your favorite Vienna Beef products on top," the company said in a blog post last week. "That's why we're thrilled to announce the launch of our very own Bloody Mary kit, featuring Zing Zang Bloody Mary mix and custom Vienna Beef mason jars."
Each kit comes with Zing Zang Bloody Mary Mix, smoked beef sticks, sport peppers, and celery salt, as well as two Vienna Beef-branded mason jars. As for the vodka, you'll have to supply that yourself. At least you can opt for your fave.
Here's how to make your hot dog-inspired Vienna Beef Bloody Mary:
1. Rim your glass with celery salt
2. Fill your glass with ice
3. Combine Bloody Mary mix and your vodka of choice
4. Pour over ice and stir
5. Garnish with Beef Stix, Sport Peppers, and Celery Salt
Now, if you want to make your Bloody Mary "Chicago-Style," as Vienna Beef calls it, add a dash of sport pepper brine to your mix and top with Vienna Kosher Dill Pickle Spears, cocktail onions, and cherry tomatoes.
Megan Schaltegger is a staff writer at Thrillist.