This U.S. Senator Revealed His Tuna Melt Recipe & People Are Horrified
Several notable people have shared great recipes to follow on social media. This isn't one of them.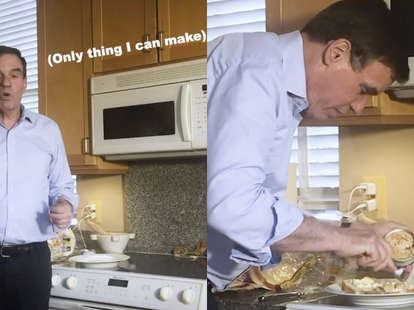 I'd hardly classify myself as an expert around the kitchen, but you don't have to be a world class chef (or even a wannabe Top Chef contestant) to know a questionable meal when you see one. Which is why everyone can gasp in collective horror at Virginia Senator Mark Warner's attempt at a tuna melt.
The politician took to Instagram on Tuesday to share his how-to on whipping up the "quarantine delicacy." Warner spends the better half of the video intro hyping up his sandwich making skills, going as far to call the recipe his "real specialty," before absolutely massacring the dish.
He starts by squeezing what can only be described as an obscene amount of mayo onto white bread. Warner then scoops the tuna straight from the can, juice dripping down, before he slaps on some cheese slices and microwaves the creation.
Viewers were understandably bewildered. Even former Senator Claire McCaskill expressed her alarm. "Ok @MarkWarner we need to talk. Where's Lisa?" she wrote on Twitter, referencing his wife. "That's too much mayo dude. ... I love your effort...but...."
As if it were any consolation (spoiler: it's not), Warner's communications director Rachel Cohen stepped forward with a clarification. "Ok, Internet, I asked him your questions," she tweeted. "And he wants you to know that he **intentionally** didn't drain the tuna 'because I didn't want it to be too dry.'"
Welp. Let's just focus on the delightful cocktail recipe videos coming from the likes of Stanley Tucci and Ina Garten.
Sign up here for our daily Thrillist email and subscribe here for our YouTube channel to get your fix of the best in food/drink/fun.
Megan Schaltegger is a staff writer at Thrillist.