These Iconic Museums Offer Virtual Tours Perfect for When You're Stuck at Home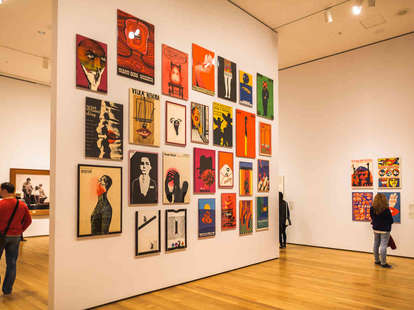 Anton Ivanov/Shutterstock.com
Anton Ivanov/Shutterstock.com
As the coronavirus outbreak continues to impact our daily lives, you may find yourself at home on your couch a lot more than you normally would. But just because you're stuck in your apartment doesn't mean you're cut off from culture.
Turns out you can wander through some of the world's most iconic museums without having to leave the comfort of your favorite throw blanket. Google's Arts & Culture collection, street view, and official sites allow you to travel virtually to London's British Museum, Van Gogh Museum in Amsterdam, France's iconic Louvre, NYC's own Guggenheim, MoMa, and more.
Here are some of the best online tours and exhibits -- and how to access them.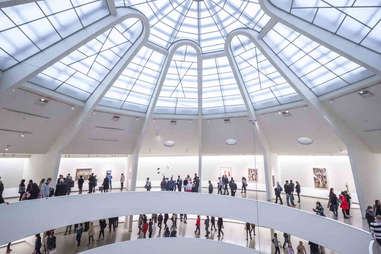 ​​​​​​New York City
Guggenheim Museum
You can utilize Google's Street View feature to explore the museum's exclusive Impressionist, Post-Impressionist, Modern, and Contemporary era art exhibits. The stunning bright, white space features both permanent collections, as well as rotating, new pieces. And while it'll cost you $25 per adult IRL, it's a whopping $0 online.
The Museum of Modern Art -- MoMA
Explore exhibits dating back to 1929 and check out the iconic works of Matisse, Picasso, and more. The famed New York City art museum boasts both modern and contemporary works, including everything from European paintings and sculptures born out of the 1880s to recent film, design, and performance art. Start exploring right here.
Whitney Museum of Modern Art
Check out the Meatpacking District's beloved museum of modern American art without dragging yourself over there. The online destination features some of the Whitney's range of 20th Century and Contemporary works on Literary Realism, Precisionism, and American Modernism.
London
The British Museum
Not a huge art fan? London's British Museum, which features historic works like the ancient Rosetta Stone and actual Egyptian mummies, is home to hundreds of remarkable artifacts. And you can tour the Great Court right on your laptop.
Tate Modern
Navigate London's modern art gallery via street view at Tate, which houses both national and international collections of art dating between the 1900s and present day.
Paris
The Louvre
The Louvre is one of the most famous museums in the world, but you don't have to jet off to Paris to experience its exquisite collection. Check out Egyptian Antiquities, Galerie d'Apollon, and more.
Musée d'Orsay
Experience the work of iconic French artists like Monet, Cézanne, and Gaugin. The museum's diverse collection includes oil paintings, canvas work, modern art, and impressionism.
Amsterdam
Rijksmuseum
Get a taste of the Dutch Golden Age at Amsterdam's Rijksmuseum, with an array of art from notable names like Vermeer and Rembrandt.
Van Gogh Museum
As the name suggests, the city's Van Gogh Museum houses the largest collection of Vincent van Gogh's work in the world, with over 200 paintings, 500 drawings, and 750 personal letters -- many of which can be viewed online.
Washington, DC
National Gallery of Art
The country's capital is home to one of the most popular art museums in the US: the National Gallery of Art. And Google happens to feature two exhibits online, American Fashion from 1740 through 1895 and a collection from Dutch Baroque painter Johannes Vermeer.
Smithsonian National Portrait Gallery
Immerse yourself in the Smithsonian's expansive National Portrait Gallery, which includes Portraits of African Americans, First Ladies, Votes for Women, and more.
Working from home? Bored on a Saturday? Scroll the extensive array of online museum collections here and absorb world culture without even leaving your bed.

Sign up here for our daily Thrillist email and subscribe here for our YouTube channel to get your fix of the best in food/drink/fun.

Megan Schaltegger is a staff writer at Thrillist.