This 4-Mile Underground Beer Pipeline Is a Genius Idea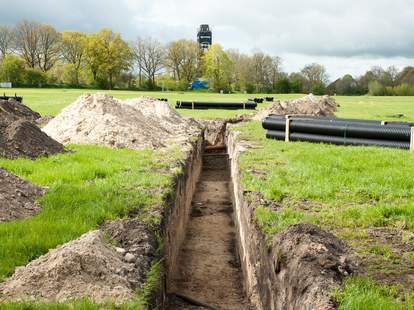 Besides rain, nothing puts a damper on a music festival quite like having to wait around beside the beer tent for the bartenders to switch out a new keg every 15 minutes. Luckily, the metalheads attending this year's Wacken Open Air festival in Germany won't have that problem, thanks to organizers who decided to ditch kegs altogether and instead construct an underground pipeline that can deliver sudsy lager into cups from miles away, uninterrupted.
Wacken Open Air
Tired of having to transport dozens and dozens of heavy kegs into the fields where the annual festival takes place -- in the summer heat -- to keep 75,000 thirsty heavy metal fans properly boozed up for three full days, Wacken's organizers made a bold and innovative decision: find a way to pump the beer to the bars underground. So, late last year, they broke ground on the pipeline project, creating a sophisticated network of subterranean conduits and tubes specifically designed to provide an unending supply of beer to specific locations from miles away, where fresh beer could be easily pumped from.
Wacken Open Air
According to Atlas Obscura, this will facilitate the uninterrupted delivery of some 105,000 gallons of beer for the event, which should be roughly adequate for the crowd, considering the average attendee consumers about a gallon of beer over the course of their visit.
The system is set up for more than just beer though. In order to create a better overall infrastructure for the event, the organizers packed in a series of drainage and wastewater pipes, as well as conduits for fiber optic cables and the power supply, which all sits safely deep enough underground for the fields to easily shift from readymade festival grounds to farmland depending on the time of year.
One can only hope this is just the beginning of a beautiful new era in free-flowing festival beer.
h/t Atlas Obscura
Sign up here for our daily Thrillist email and subscribe here for our YouTube channel to get your fix of the best in food/drink/fun.