Waffle House Has Begun Selling its Famed Waffle Mix Online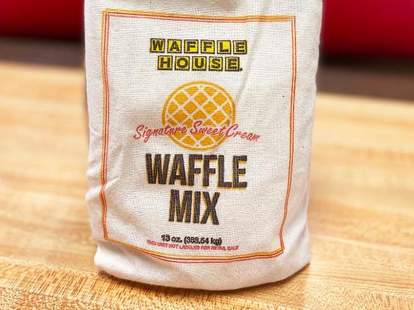 I'm not the person that took to cooking when all the social distancing guidelines began, but the pressure to play Betty Crocker eventually hit -- mostly because there's nothing else to do. Two weeks into self-isolation, I joined the army of Instagram bakers and whipped up a loaf of banana bread. But unlike my Bon Appetit-obsessed peers, I opted for the easy way out: a box mix.
Go ahead and shame me, but the sooner you finish baking, the sooner you get to eat. And Waffle House gets it. The iconic breakfast chain, which was forced to temporarily shut down more than 400 locations in the wake of the COVID-19 outbreak, has begun packaging its fan-favorite waffle recipe in an easy-to-make mix. The comforting classic's first run sold out within a few hours.
"Waffle Mix is currently sold out," the chain tweeted shortly after the official announcement. Although the $20 Sweet Cream Waffle Mix three-packs are gone for now, the Waffle House says more is on the way. "We're working to restock!" the brand tweeted. 
 
In the mean time, the Waffle House online shop is selling five-packs of its 100% Arabica bean coffee for $10, logo mugs for $9.50, and t-shirts. Basically, you can outfit yourself and your entire kitchen like the chain. I'm not saying it's a perfect substitute, but hopefully it'll help while we flatten the curve.
h/t Food & Wine
Sign up here for our daily Thrillist email and subscribe here for our YouTube channel to get your fix of the best in food/drink/fun.
Megan Schaltegger is a staff writer at Thrillist.