Everyone Gets Free Pizza at Walmart Starting Today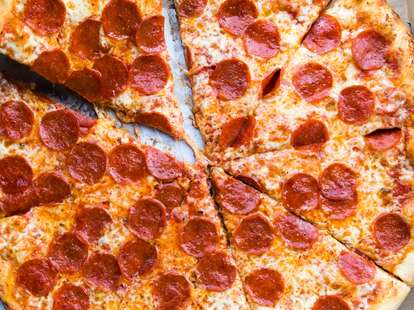 Cole Saladino/Thrillist
Cole Saladino/Thrillist
When Walmart tweaked its Marketside store-brand frozen pizza recipe last year, it didn't take long before many customers panned the new pies in angry, one-star online reviews -- accusing the retail giant of trying to fix something that's not broken. Now, the company is responding to the criticism by switching back to the old pizza crust recipe, and on Wednesday, stores all across the country are handing out free slices to celebrate the relaunch.
Here's the deal:
Starting on June 6, more than 2,500 Walmart stores throughout the United States will give away free slices of freshly made Marketside Pizza near the store's pizza section, a company spokesperson told Thrillist. Pizza choices will vary by store, but the options include cheese, pepperoni, supreme, and "Ultimate" meat. Best of all, you don't need to buy anything to grab a free slice, though the giveaway is limited to one slice per person.
While you don't need to buy anything to get in on the giant pizza party, Walmart recommends that you call your local store to make sure it's participating before you show up asking for a slice. Not every Walmart store is offering free pizza and some stores are staging the giveaway on different days this week, according to the company. Yes, you may have to pick up your phone, but that's a pretty small price to pay for pizza.
"Some people (not naming any names) got a little crusty when Walmart tried to improve on pizza perfection," Walmart said in a statement,"so now the retailer is flipping back to the original crust that customers craved -- and giving them a piece of pizza to celebrate!"
Thank you to everyone who complained.
Sign up here for our daily Thrillist email and subscribe here for our YouTube channel to get your fix of the best in food/drink/fun.

Tony Merevick is Senior News Editor at Thrillist and is always down for some free pizza. Send news tips to news@thrillist.com and follow him on Twitter @tonymerevick.