Walmart Just Launched Grocery Delivery in 100 Cities to Take on Amazon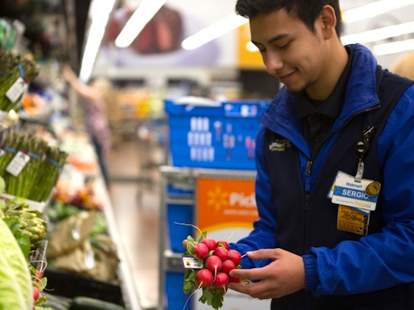 If there's one thing that seems inevitable about the future, it's that none of us will ever have to leave the house again. And on Wednesday, Walmart inched us even closer to that brave new world. 
Walmart is expanding its grocery home-delivery service from six cities to over 100 metro areas. This means the service will be available to more than 40% of US households by the end of the year. Delivery will cost $9.95, and there will be a minimum $30 order, so don't expect to be ordering packs of gum. Walmart currently partners with companies like Uber and Deliv to make deliveries and will add more partners as it expands.
"We will be pretty aggressive with it," said Vice President of Digital Operations Tom Ward on a call with reporters, according to Reuters.
Walmart also recently announced that it's bringing curbside grocery pickup to over 1,000 more stores on top of the 1,200 stores that already offer the service, which comes at no extra cost to customers.
This is widely seen as an attempt to compete with Amazon's two-hour Prime Now grocery delivery, Target's recent acquisition of the delivery startup up Shipt, and Instacart's partnering with other groceries like Sam's Club.
Whichever of these companies wins the grocery delivery wars is fine with us. It's all a great reason to stay home.
Sign up here for our daily Thrillist email and subscribe here for our YouTube channel to get your fix of the best in food/drink/fun.