Walmart Just Burned a Dude Who Said He Shoplifts From the Store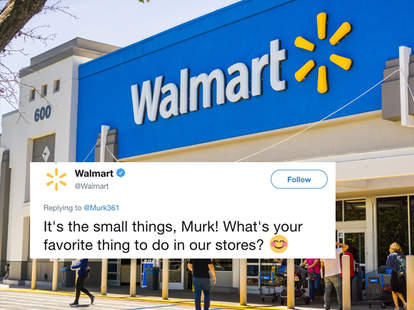 Shutterstock.com - Edited
Lots of people love messing with brands on social media. Everyone else enjoys seeing a brand break from their usual stodgy demeanor to strike people down like Darth Vader facing Obi-Wan Kenobi. Wendy's (and Moonpie, for some reason) is pretty good at this game, burning other chains and customers alike. Walmart just joined the merry band of companies showing personality on Twitter by roasting a customer with Wendy's-level snark. 
It all started innocently enough with a tweet from @Murk361. He said he likes going to Walmart for fun. Though, in retrospect, he might have been attempting to set himself up for a joke if the big box store were to reply.
It's the small things, Murk! What's your favorite thing to do in our stores? 😊

— Walmart (@Walmart) June 20, 2018
Walmart did respond, asking what he's doing at Walmart that gives him so much pleasure.
Murk got the set-up from Walmart and spiked an easy joke, saying he likes to steal when he goes to Walmart. (At least, it's probably a joke. Maybe he was just being honest.)
Well played Murk. After further review of our store's video feed we've decided to let you keep the rash cream. Next time tho... pay in full. 😉

— Walmart (@Walmart) June 21, 2018
However, Walmart got the final word. It maybe didn't reach the levels intense clapback Wendy's can dish out, but people were loving it in the replies.
Wow Walmart is more savage than @Wendys and I didnt think that was even possible

— young american teen (@jojo_baby18) June 21, 2018
Either someone went rogue or the Wendy's game is catching on.
h/t Indy100
Sign up here for our daily Thrillist email and subscribe here for our YouTube channel to get your fix of the best in food/drink/fun.

Dustin Nelson is a News Writer with Thrillist. He holds a Guinness World Record but has never met the fingernail lady. Follow him @dlukenelson.