The Walmart Yodeling Boy Made Hank Williams Surge to No. 4 on Spotify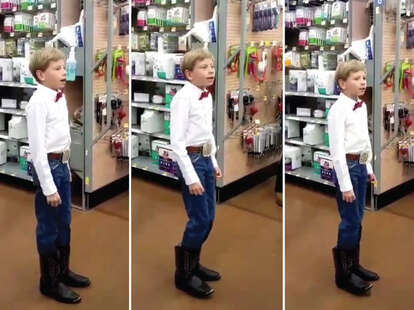 Walmart Yodeling Boy, the latest meme to simultaneously captivate the internet and provide inspiration for Steve Aoki, is still being talked about weeks after video of him yodeling in a Walmart went viral. To refresh your memory, 11-year-old Mason Ramsey was filmed yodeling in his local Walmart in Harrisburg Illinois, and quickly became the toast of the internet, spawning memes, inspiring remixes and accepting his new role as a viral celebrity.
Ramsey's rendition of Hank Williams' "Lovesick Blues" became such a smash, though, that it's helped elevate the original song to no. 4 on Spotify's Viral 50 Chart. It's now right behind The Weeknd, Cardi B, and Lil' Dicky, respectively. Currently it's beating Tyler The Creator, thanks to an 11-year-old yodeler.
Hank Williams Sr.'s original song was recorded in 1949, 58 years before Mason Ramsey was born. Still, the meme's popularity has seen the tune spring to life, with Spotify reporting a 2,452% surge in searches for it since Ramsey's meme blew up.
For reference, here's the original video of Ramsey doing his thing. It's been viewed 20.5 million times since it first posted on March 27:
Since then, Ramsey did what all memes do, and went on the Ellen Degeneres Show and performed what's now his trademark tune.
Seizing the opportunity to milk this kid's viral potential for all it's worth, Walmart is hosting a live-streamed performance of Ramsey on Wednesday, April 11. The concert will start at 4pm CT/5pm ET and stream through Walmart's Facebook and Twitter accounts. Appropriately, it's taking place at Ramsey's hometown Walmart in Harrisburg, Illinois, which is now ground zero for viral yodeling tracks.
h/t [NY Daily News]
Sign up here for our daily Thrillist email and subscribe here for our YouTube channel to get your fix of the best in food/drink/fun.
 
Sam Blum is a News Staff Writer for Thrillist. He's also a martial arts and music nerd who appreciates a fine sandwich and cute dogs. Find his clips in The Guardian, Rolling Stone, The A.V. Club and Esquire. He's on Twitter @Blumnessmonster.