Check out These Vintage, Behind-The-Scenes Disney Photos
If you're not sticky from a melted Mickey-ear ice cream and standing in a wrap-around line for the Matterhorn, Disney's pretty great. And these photos recently released from the Disney Archives evoke everything people love about Disney, like Mickey Mouse plushes. 
In honor of Walt Disney's 114th birthday, the Walt Disney Archives rolled out a print-on-demand photo service, allowing Disney fans with a credit card (sorry, 6-year-old Charlie) to purchase high-quality images from Disney's storied past. Images  of a young Walt, Sleeping Beauty's castle on opening day, and behind-the-scenes shots from the filming of Fantasia and Cinderella are all available for purchase.
Check out a sample of the photos below, and try not to go into Disney dork over-drive. 
 
Walt Disney Archives
Disneyland® Sleeping Beauty Castle
"Opening July 17, 1955, Disneyland® ushered in a new era of family entertainment for Walt Disney and the company he co­founded with his brother Roy. Here we see the park's centerpiece, Sleeping Beauty Castle, during the opening day festivities."
Walt Disney Archives
Walt & Mr. Stubbs
"Be it man or beast, Walt Disney was able to command the attention of many an actor. Here, Walt visits behind the scenes with "Mr. Stubbs" from Toby Tyler (1960)."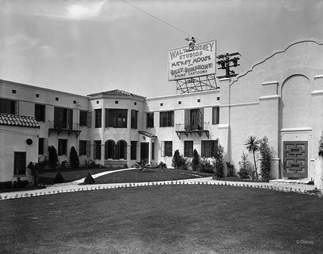 Walt Disney Archives
Hyperion Studios Courtyard
"From 1926 to 1940, The Walt Disney Studios was located at 2719 Hyperion Boulevard, pictured here.This would become the home to Mickey Mouse, Donald Duck, Snow White and the Seven Dwarfs, and the artists who helped bring them magically to life."
Walt Disney Archives
Cinderella on Set
"Cinderella (1950) Behind the Scenes Still ­- Actress Helene Stanley performs for the camera during live action reference filming at The Walt Disney Studios in Burbank, CA. (1948)."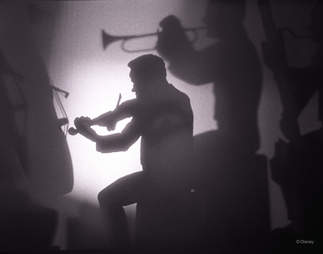 Walt Disney Archives
Fantasia Musicians Book
"Bach's ethereal "Toccata and Fugue in D Minor" serves as a powerful opening to Disney's concert epic, Fantasia (1940). This behind­-the-scenes photo showcases the impressionistic lighting effects used to highlight the featured musician's movements, part of the collaborative visual representation of sound featured in the segment."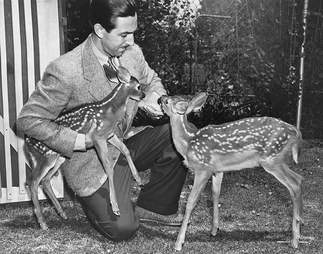 Walt Disney Archives
Walt & Deer
"Seeing "wild" animals on the Hyperion studio lot was no odd occurrence. Used as live-­action reference models for Disney's artists, the deer pictured here were welcome visitors to Walt's dream factory. They helped studio chief and artists alike prepare for the upcoming animated film, Bambi (1942)."
Walt Disney Archives
Disneyland® Mad Tea Party Color
"The Mad Tea Party at Disneyland is one of the most iconic Disney attractions. Originally opening with the park on July 17, 1955, the attraction's popularity would ultimately lead to other iterations being included in Magic Kingdom® Park at Walt Disney World® Resort, Tokyo Disneyland, Disneyland® Paris, and Hong Kong Disneyland® Park."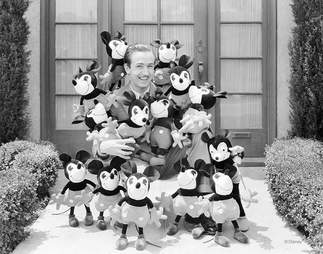 Walt Disney Archives
Walt & Mickey Dolls
"Realizing the great potential that Mickey Mouse could have in the character merchandise business, Walt and Roy Disney accepted an offer from imaginative businesswoman Charlotte Clark to produce the very first Mickey Mouse plush dolls—the original set seen here cuddled up with Walt circa 1932."
Sign up here for our daily Thrillist email, and get your fix of the best in food/drink/fun.
Kara King is a News Writer at Thrillist and has spent a good chunk of her life in line for Space Mountain. Send news tips to news@thrillist.com and follow her at @karatillie.