The Washington Capitals won their first-ever Stanley Cup championship last week, and the greatest goal-scorer of the modern NHL has silenced his critics. As you've probably seen in videos of the team swimming in fountains and generally having a good time, the celebration hasn't stopped since the team finished off the Vegas Golden Knights in five games. 
If you want to be part of the festivities, the team and the city of Washington DC will be celebrating on Tuesday, June 12 with a parade down Constitution Avenue. Here's everything you need to know to get in on the fun. 
Recommended Video
Send Foodz: Taste of Atlanta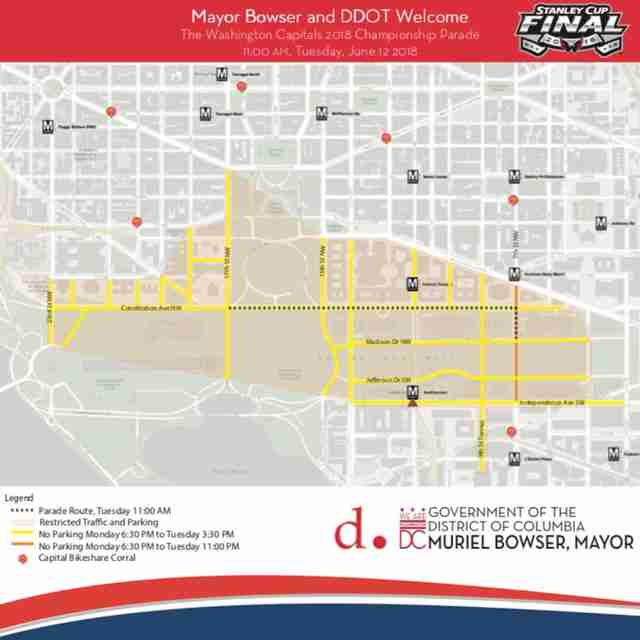 Washington Capitals parade route
The parade begins at 11am at Constitution Avenue and 23rd Street NW by the Lincoln Memorial. It will then head down Constitution toward Seventh Street NW. It will turn south on Seventh briefly, before ending with a rally on the National Mall.
The nation's capital is no stranger to large rallies and parades. Nonetheless, expect large crowds and lots of traffic. More than 100,000 people are expected to be in attendance.
"Washington, D.C., is a place where we hold a parade almost every weekend," DC Police Chief Peter Newsham told WTOP. "This is something we do and we do very well."
The parade will feature the Washington Capitals as well as a flyover by four F-16s from the D.C. Air National Guard. Also on the list of guests, per a press release from the team:
Washington Capitals alumni
Eastern High School Blue and White Marching Machine Marching Band
Ballou High School Majestic Knights Marching Band
DC Fire Department Emerald Society Pipes & Drums
Capital One Arena ice crew
The Capitals Red Rockers and mascot Slapshot
Many Capitals broadcasters
Mayor Muriel Bowser and members of the DC City Council
Parade parking and street closures
If you want to attend the rally, organizers recommend approaching the parade from the south side. According to WTOP, no one will be allowed to cross the parade route at any point. Fencing will be up from 23rd to Sixth Street, with streets starting to close at 9:30am Tuesday morning. 
You can see in the map above that there will be parking restrictions all over the parade area. Those will start at 6:30pm Monday night and run until 3:30pm on Tuesday, with some exceptions. Between that and a ton of street closures, using the Metro may be the best way to get to the parade. The Metro will operate at rush-hour frequency to help accommodate the crowds.
The team is offering safety, transit, and weather alerts if you text "ALLCAPS" to 888-777.
How to live stream the Capitals parade
Many local channels will cover the parade, including NBC Washington and Fox5. Both channels will also have a free live stream available online. You can watch NBC Washington here and Fox5 here. 
Sign up here for our daily Thrillist email and subscribe here for our YouTube channel to get your fix of the best in food/drink/fun.