Watch Larry David Kill It As Bernie Sanders On SNL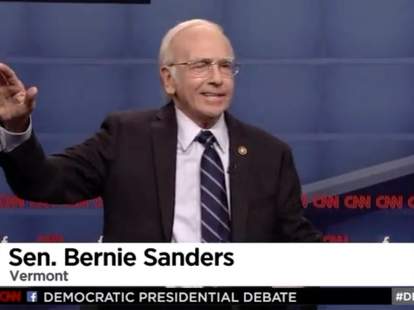 America's favorite curmudgeon, Larry David, has fulfilled his lifelong destiny by playing America's other favorite curmudgeon, Bernie Sanders on Saturday Night Live. 
The hilarious sketch, spoofing the Democratic debate, puts Larry David in Bernie Sanders' shoes and offers a most constructive criticism of the Vermont Senator. Most importantly, it confirms that David and Sanders wear the exact same size shoe. That's a metaphor. 
"I carry my stuff around loose in my arms like a professor between classes. I own one pair of underwear. That's it! Some of these billionaires, they have three, four pairs. And I don't have a dryer! I have to put my clothes on the radiator. So who do you want as president? One of these Washington insiders, or a guy who has one pair of clean underwear that he dries on a radiator?" Amazing.
This just shows that SNL has been listening to us the entire time. They're the SAME PERSON, people. 
Sign up here for our daily Thrillist email, and get your fix of the best in food/drink/fun.
Jeremy Glass is a writer for Thrillist and hopes to be exactly like Larry David when he turns 30.