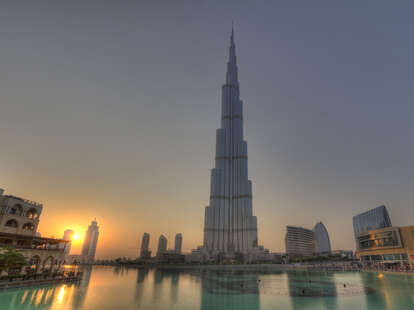 <a href="http://www.shutterstock.com/gallery-672502p1.html?cr=00&amp;pl=edit-00">Anastasios71</a> / <a href="http://www.shutterstock.com/editorial?cr=00&amp;pl=edit-00">Shutterstock.com</a>
<a href="http://www.shutterstock.com/gallery-672502p1.html?cr=00&amp;pl=edit-00">Anastasios71</a> / <a href="http://www.shutterstock.com/editorial?cr=00&amp;pl=edit-00">Shutterstock.com</a>
If you've ever had the strength and emotional fortitude to somehow become vertical before dawn, then you've probably been rewarded with getting to watch a beautiful golden sunrise over your neighborhood. And while it was probably stunning, imagine watching a sunrise from the world's tallest building over the sprawling desert metropolis of Dubai. Well, now, you can.
The Burj Khalifa, which stands 2,717ft above the United Arab Emirates city, announced this week it is now offering visitors the chance to experience the sunrise from the 124th floor, according to a report by the Associated Press. Talk about getting up early.
The sunrise viewings will take place on the UAE's weekend days, Friday and Saturday, and will start at 5:30am with additional 30-minute sessions running through 8am, per the report. Factoring in the exchange rate, tickets cost about $34 for adults, $26 for children ages 4-12, and kids under 4 get in for free. All you have to do now is figure out what's more realistic -- getting to Dubai, or getting up early enough to catch the sunrise.
Sign up here for our daily Thrillist email, and get your fix of the best in food/drink/fun.
Tony Merevick is Cities News Editor at Thrillist and wonders if he can see his house form there. Send news tips to news@thrillist.com and follow him on Twitter @tonymerevick.