Nightmare Fuel: Watching Lightning Strike Your Plane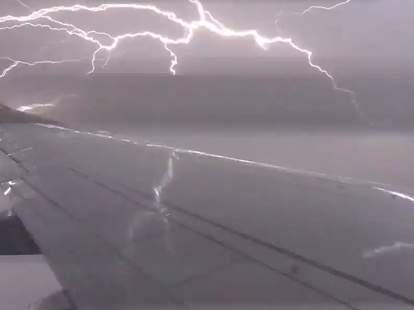 Just to amp up that fear of flying to extreme levels, here's a video of a plane in a lightning storm. It's slightly terrifying.
Earlier this week, an extreme lightning storm hit Queensland, Australia. According to The Guardian, 28,000 (!!) lightning strikes were reported during the course of the storm in addition to golfball-sized hail. Fun times. 
Unlucky passenger Lee Carseldine was en route to Brisbane on the night of the storm, and caught some of the action on film. He was lucky (or unlucky, perhaps) enough to get the window seat. He then posted a video on Twitter with the appropriate exclamation "Holy Sh!tballs."
Take a look below.