This Gorgeous Soft Serve-Filled Watermelon Is Coming to the US for Just Four Days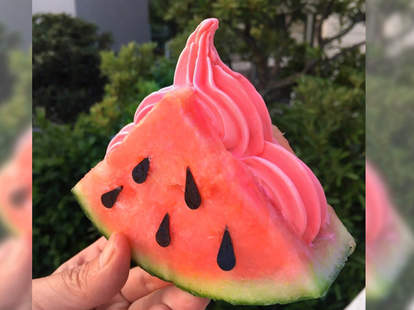 Your Fourth of July weekend just took on a new mission. Get to the Dominique Ansel Kitchen in New York, home of the original cronut (and other tempting summer snacks), and get your sweaty hands on this What-a-Melon soft serve dessert. The shop originally launched the treat at its Tokyo shop to celebrate the bakery's second anniversary at that location. However, it has been such a hit it's being brought to the US. 
Though, there's a catch because of course there's something standing in the way of this filling your craw. It's only going to be available at the West Village bakery for four days. It'll be there from July 1 through July 4, starting at noon each day and available until it's sold out.
The concoction involves a slice of watermelon with space carved out of the middle. That space is filled with watermelon sorbet soft serve, made extra refreshing with sea salt and lime zest. Oh, and there are little chocolate seeds on the outside to make it 100 percent Instagram-ready.
You can grab it at the bakery's soft serve window, where you'll also find burrata and cold brew soft serve flavors being dished out.
Sign up here for our daily Thrillist email, and get your fix of the best in food/drink/fun.
Dustin Nelson is a News Writer with Thrillist. He holds a Guinness World Record but has never met the fingernail lady. Follow him @dlukenelson.