Wawa Is Opening Its First Drive-Thru Location
Necessary for those hangover hoagie runs.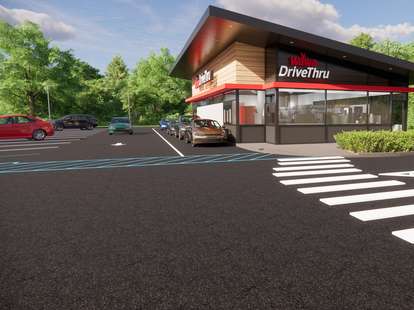 Courtesy of Wawa
Courtesy of Wawa
For east coasters, Wawa is an oasis of hoagies, breakfast burritos, and any kind of latte you could ever want. It's a one-stop shop for that morning after one too many tequila shots. And now, you can pick up the gobbler without actually walking inside. The beloved convenience store is officially opening its first drive-thru store location.
An 1,850sqft, freestanding drive-thru Wawa is slated for Falls Township, Pennsylvania, according to the company. And while this marks a new concept for the chain, its trademarked canopy -- and fresh food -- remain at the forefront.
"Wawa continues to test new store concepts with this latest drive thru format, providing an opportunity for our customers to still experience and enjoy their favorite Wawa products while remaining inside their vehicle," Wawa's director of construction Terri Micklin said in a statement. "It is critical to provide new ways to access Wawa, increase convenience and provide new options for service."
So when exactly should we start planning a collective, drive-thru sub-seeking road trip? Wawa says construction is scheduled to begin in late August with a targeted opening date in December 2020. So basically, soon.
"We are hoping to learn from the layout, workflow and traffic flow at this location, as we continue to explore alternatives for longer term application to our stores post-COVID-19," Micklin said. "We appreciate the opportunity to partner with Falls Township officials, who are providing us with the approvals and support of this newly designed store format that will be of benefit to the community."
Sign up here for our daily Thrillist email and subscribe here for our YouTube channel to get your fix of the best in food/drink/fun.
Megan Schaltegger is a staff writer at Thrillist.