When you think of Pop-Tarts, you probably remember the frosting, colorful sprinkles, and strawberry flavored filling -- too hot to eat right out of the toaster -- of your childhood sugar rush. Or, as some like to call it, breakfast. But you probably don't think of things like watermelon and pink lemonade, right? That's about to change.
Last month, Kellogg's announced a lineup of five crazy-sounding, limited-edition flavors of the packaged breakfast pastries: Frosted Maple & Bacon, Frosted Chocolatey Caramel, Frosted Watermelon, Frosted Pink Lemonade, and Spring Frosted Strawberry. If you're anything like us, you were intrigued, and maybe a little hungry after hearing the news. That's why we got our hands on all of the new flavors and tasted them before they start hitting shelves later this year and early next year.

With a flavor like Frosted Pink Lemonade, we adjusted our expectations accordingly, and yet, we were still surprised at what we found.
Frosted Maple & Bacon
Maple, maple, and more maple. These sugary rectangles aren't messing around when it comes to that super-sweet syrupy flavor. This is clear the moment you open the packaging and the room starts smelling like pancakes. However, it sort of makes the bacon component feel like a side thought. There's no real bacon to be found here, but rather, just salty ingredients that kinda-sorta taste like it, and really leave you wishing you had real bacon. Hey, nobody's stopping you from frying up bacon and putting them on your Pop-Tarts. Except maybe your doctor.
Frosted Chocolatey Caramel
Obviously, this isn't the first Pop-Tarts flavor to boast a darker, chocolate crust, but it could easily be one of the best. Just like the Chocolatey Strawberry, the combination of chocolate and caramel just makes sense. After a few bites, you won't be tricked into thinking you're eating chocolate covered caramels, but that's certainly what you'll be thinking about. The flavor comes as close to the real thing as a toaster pastry should, which is all to say that it's damn tasty.
Frosted Watermelon
Make no mistake: we went into tasting this flavor with an abundance of skepticism... because watermelon? Really? But what we expected to be an overwhelmingly fake and sweet taste was actually rather light and pleasant. Surprisingly, it works. The bright pink-and-green frosting on top is just a bonus.
Frosted Pink Lemonade
It's hard to conceptualize what pink lemonade in the form of Pop-Tarts tastes like, which is why we were so eager to put it in our mouths and find out. At first bite, you get a lot of the standard Pop-Tarts crust flavor (or, rather a lack of real taste), but that quickly gives way to sweet & sour -- and somewhat realistic -- pink lemonade. It's as if they mixed some Crystal Light powder into the filling, which brings a whole new meaning to Pop-Tart (I'll show myself out now). There are also hints of key lime pie, and we're not mad about it. These will fittingly start hitting shelves in the spring.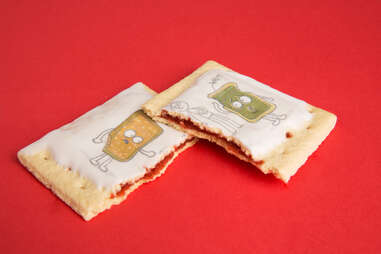 Spring Frosted Strawberry
It's hard to say if the new Spring Frosted Strawberry tastes any different from the Frosted Strawberry ones you know and love from childhood. The biggest difference? Cheeky little cartoons printed on the frosting were definitely not there before. But the best difference is that they come sans sprinkles, which makes them vastly better than their predecessors, in that sprinkles don't scatter all over the school bus with every bite. The cartoons are great, too.
The Verdict
While the Frosted Maple & Bacon flavor seemed more like Frosted Maple & More Maple, the Frosted Chocolatey Caramel Pop-Tarts saved the day -- and stole the show -- with their chocolate crust and a no-brainer flavor combination that's hard to mess up. Frosted Watermelon was a pleasant surprise, and Frosted Pink Lemonade was the sweet and sour sugar rush we thought it would be. Finally, how can you go wrong with good ol' strawberry (sans sprinkles) with edible cartoons on top?
Ultimately, unless you've been dying for Pop-Tarts to release a pink lemonade flavor, this new limited-edition lineup likely won't change what your all-time favorite Pop-Tart is (blue raspberry, duh). However, if you haven't had Pop-Tarts in a while, the five new flavors might be enough to warrant a sugar rush for breakfast -- for ol' times sake. They'll certainly help make your breakfast a little weird. Just try the Frosted Watermelon one toasted. You'll see.
Sign up here for our daily Thrillist email, and get your fix of the best in food/drink/fun.
Tony Merevick is Cities News Editor at Thrillist feels like his body is 20% sugar now. Send news tips to news@thrillist.com and follow him on Twitter @tonymerevick.