Generally speaking, no one wants to suddenly see a bright light cast on their masturbating. It's probably coming from the hallway and that's definitely not how this was supposed to end. But a new survey of 1,032 people is shining a light on masturbation habits in a way that won't be followed by a week of awkward glances in the living room.
Conducting by the adult toy company We Vibe, it's a limited survey, but with so few surveys really digging into the topic, it provides some interesting details, and it comes perfectly timed for Masturbation Month -- that annual tradition where everyone continues to masturbate like they normally would. 
Here are a few highlights from the survey:
 
1 in 3 Men and 1 in 5 Women Masturbate to Celebrities
Both sexes are interested in looking at or thinking about celebrities while taking care of their business. Among men, the top muse was Jennifer Lopez. Other names at the top of the unsurprising list -- more fully fleshed out in the word cloud above -- were Carrie Underwood, Jennifer Lawrence, Scarlet Johansson, Jessica Alba, Emma Watson, and Kim Kardashian.
For women, Magic Mike appears to have penetrated the collective psyche, with Channing Tatum taking top honors. Others getting their fair share of fantasy votes? Ryan "Hey Girl" Gosling, Adam Levine, Johnny Depp, Justin Timberlake, and more, pictured in the word cloud below.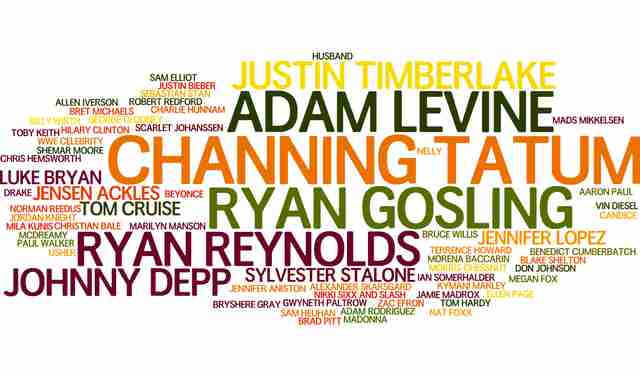 Everyone Uses Sex Toys
We Vibe says that women are 16 times as likely to use sex toys, but that 5% of men always use a sex toy when masturbating.
 
How to Spice Things Up
Unsurprisingly, more men than women believe that watching porn is going to help them keep their self-pleasing game worthwhile. 91% of males think watching new porn content is going to spice things up, while just 67% of women felt the same.
53% of women think incorporating new toys is a good way to keep things interesting, while just 22% of men agreed.
 
Talking About It
A staid 22% say that they never talk openly about their sex life. That was the most prevalent in respondents aged 55 and up (48%), the unemployed (35%) and people who do not buy or use sex toys (38%).
The demographic that most frequently said they embellished when discussing their sex life was the $76,000 to $100,000 income bracket (26% said they had), and the $100,000 to $150,000 bracket (25%). 
At the opposite end of the spectrum, 29% of respondents aged 18 to 21 said they had told people they were having less sex than they were (hello, being in college and visiting your parents on the weekend). The next highest age bracket was 22 to 34, where just 18% said they had downplayed their sex life.
Now that you've taken a second to appreciate Masturbation Month, share the knowledge. There's no better ice breaker than asking someone if they know it's Masturbation Month, and then dropping some serious knowledge about America's true pastime.
Sign up here for our daily Thrillist email, and get your fix of the best in food/drink/fun.
Dustin Nelson is a News Writer with Thrillist. He holds a Guinness World Record, but has never met the fingernail lady. He's written for Sports Illustrated, Men's Journal, The Rumpus, and other digital wonderlands. Follow him @dlukenelson.