This Weatherman's Reaction to His First Eclipse Is Outstanding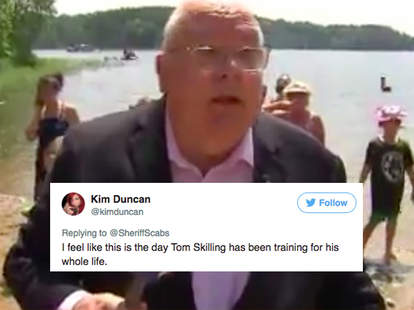 Chicago-area meteorologist Tom Skilling of WGN-TV, like many, took in his first total solar eclipse on Monday. The weatherman traveled to Carbondale, Illinois to broadcast live from the path of totality. He managed to truly convey the spirit of the event, even if things didn't go exactly as planned.
Skilling was so moved by the celestial spectacle that he was not able to get through the report without tears of joy.
"I'll get my act together, guys," he said as he emotionally ended the segment.
Getting his act together wound up involving lots of hugs, high fives, and leading a round of "Here Comes the Sun" as totality came to its conclusion, according to WGN. (There is, unfortunately, no video of the sing-along.)
If you just fell in love with Skilling for his honest joy over the eclipse, you aren't alone. After the broadcast, Skilling began trending on Twitter, where people loved him as much as he loved the eclipse.
Skilling managed to do something very difficult. He accurately communicated the awe many in the path of totality felt while watching the spectacle.
h/t Mashable
Sign up here for our daily Thrillist email, and get your fix of the best in food/drink/fun.
Dustin Nelson is a News Writer with Thrillist. He holds a Guinness World Record but has never met the fingernail lady. Follow him @dlukenelson.