Everywhere You Can Find Sales on Weed & Accessories for 4/20
With recreational cannabis legal in more and more states, 4/20 is becoming a day for sales.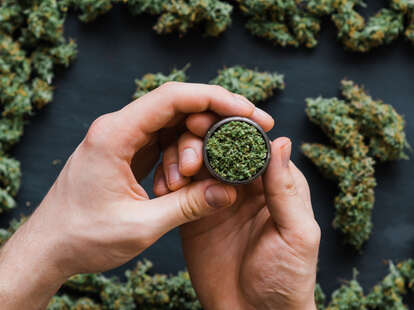 Dmytro Tyshchenko/Shuttertock
Dmytro Tyshchenko/Shuttertock
Legal recreational cannabis use has now arrived in 18 states and Washington, D.C. That does not include Rhode Island, where legislation has been introduced, or South Dakota, where citizens voted to legalize recreational use but had that struck down by the state's Supreme Court. That is in addition, however, to the 37 states and five territories that have legalized cannabis for medical use.
It's a lot to keep track of. But with legalization spreading, it shouldn't be a surprise that 4/20 has evolved from whatever it used to be into a corporate-endorsed holiday for weed. Restaurants offer specials. Clothing brands launch capsule collections. And dispensaries have sales, just like any other business. With so much going on, we've pulled together some of the best weed sales around the country to give you a place to start the day, should you choose to celebrate.
Here are the best weed sales taking place on 4/20.
4/20 Sales in Arizona
Sunnyside Arizona
The deal: Take 40% off all Cresco and High Supply brands.
When: Through April 24
Sunnyside Arizona
The deal: The first 200 customers get a free Cresco LLR cart. It's also offering buy-one-get-one-free on Select Essential Carts.
When: April 20
4/20 Sales in California
Kiva Confections
The deal: Kiva has partnered with four dispensaries in Los Angeles. You can get a free Yeastie Boys Signature Sandwich with the purchase of any Kiva x Yeastie Boys Everything Bagel Munchies bar. You'll be able to get a sandwich with the chocolate bar at Sweet Flower DTLA, Sweet Flower Westwood, Mota, and Wonderbrett.
When: April 20, 9 am - noon
Sweet Flower
The deal: Buy a bottle of Artet's signature cannabis aperitif, and you'll get a free four-pack of Artet's canned cocktails.
When: Through April 20
Cann
The deal: Take 20% off across the THC seltzer company's site and snag a free tote when you spend at least $150.
When: April 20
4/20 Sales in Illinois
Rise
The deal: Grab a $35 300mg Rythm disposable vape pen for $28. Or take $7 off Incredibles chocolate bars, $15 off 3.5g of Rythm flower, or a big discount on four Dogwalkers Big Dogs for $20.
When: April 20
Sunnyside Illinois - Danville, Rockford, and South Beloit
The deal: The Mix & Match deal gets you 20% off our entire order when you buy any four flower, vape, or concentrate items. You can also get 20% off the purchase of any two Kiva Terra or Caminos items.
When: Through April 24
Sunnyside Illinois - Danville, Rockford, and South Beloit
The deal: Spend $250 and get a select eighth for a penny.
When: April 20
Sunnyside Illinois - Buffalo Grove, Champaign, Elmwood, Naperville, River North, Schaumburg, and Wrigleyville
The deal: Take 20% off High Supply items or Kiva Terra and Kiva Camino. You'll also find 10% off all Ascend items.
When: Through April 24

Sunnyside Illinois - Buffalo Grove, Champaign, Elmwood, Naperville, River North, Schaumburg, and Wrigleyville
The deal: If you spend $250, you'll get a select eighth for a penny.
When: April 20
4/20 Sales in Massachusetts
Sunnyside Massachusetts
The deal: Buy a pair of Premium Cresco/Cultivate eighths for $70 or buy four Cultivate/Cresco one-gram prerolls for $40.
When: Through April 24
Accessories Sales for 4/20
Vessel
The deal: Take 20% off accessories across the site. That includes its stackable concrete ashtray, vape pens, and more. It also has an ongoing offer for free shipping on orders of at least $99.
When: Through April 30
Session Goods
The deal: Get 20% off across the accessories site with the code "FOUR2022." You can also get a special 4/20 bundle with a free colored version of Session's Pipe with the purchase of Bong.
When: Through April 20
CBD Sales on 4/20
Hometown Hero
The deal: The brand with hemp-derived THC that supports veterans has huge discounts on two of its bundles. It also offers free gummie samples by mail. (Seriously.)
When: April 20
CBD Living
The deal: Take 40% off all CBD Living and Delta-8 Living products with the code "420FUN."
When: Through April 21
Canopy Growth
The deal: Take 15-25% off bundles from brands like Martha Stewart CBD, Storz & Bickel, Quatreau, SurityPro, Whisl, and This Works.
When: April 20
Tonic CBD
The deal: It is running its biggest sale of the year, offering 30% off across the site and 40% off on any order of at least $400. Use the code "FLOWERS."
When: Through April 24
Elevated Wellness
The deal: Take 25% off anything you want.
When: Through April 23