Two Stores Beat Trader Joe's for America's Favorite Grocery Chain
Trader Joe's may be your go-to place for everything bagel seasoning, great cheap wine, and 19-cent bananas, but it turns out the popular generic supermarket chain has been beaten for the title of America's favorite grocery store for the second year in a row, according to an annual study by consumer insights firm Market Force Information. This year, two similarly beloved grocery store brands have tied for the ranking's top spot.
Wegmans, the grocery store with arguably the most rabid fan base, and Publix Super Markets, the fast-growing chain known for customer service and employee ownership, tied for the title of America's favorite grocery store after placing first and second in last year's study, respectively. Good ol' TJ's came in a close second place, though, at just one percentage point behind the leaders on Market Force's overall Composite Loyalty Index. The scoring was based on how nearly 13,000 survey respondents rated "their satisfaction with their most recent grocery shopping experience and their likelihood to refer that grocer to others," according to a press release.
Here's a graph visualizing the full ranking: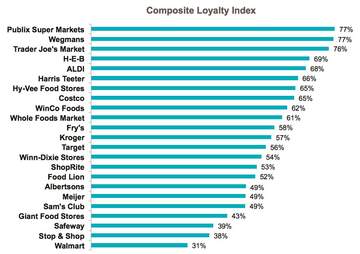 Courtesy of Market Force Information
For anyone who's shopped at Wegmans, its place on the ranking should come as no surprise, but Market Force attributes it the New York-based chain's reasonable prices, big stores, focus on training for great customer experiences, steady expansion, and of course, it's legion of superfans. If you haven't set foot in a Wegmans, just ask anyone who has and they'll probably be more than happy to fill you in. For like 15 minutes.
Meanwhile, H-E-B made it into the top three for the first time, followed by ALDI and Harris Teeter, to round out the top five. Whole Foods placed eighth on the overall ranking, but came in last out of all the grocery store chains in one of the several other metrics included in the study: value. Like last year, Trader Joe's took first place in the cashier courtesy category, while Wegmans and Publix dominated the other categories. Of course, a study likely won't change where you end up grocery shopping, but the results seem to show there's actually something to the hype surrounding some of the stores.
Courtesy of Market Force Information
Sign up here for our daily Thrillist email, and get your fix of the best in food/drink/fun.
Tony Merevick is Cities News Editor at Thrillist and has actually never shopped at a Wegmans. Send news tips to news@thrillist.com and follow him on Twitter @tonymerevick.