People Are Revealing Their Weirdest Childhood Food Habits on Twitter, and Wow They're Gross
Getting a kid to try new foods or eat anything that could be even remotely construed as "healthy" can be a famously uphill battle...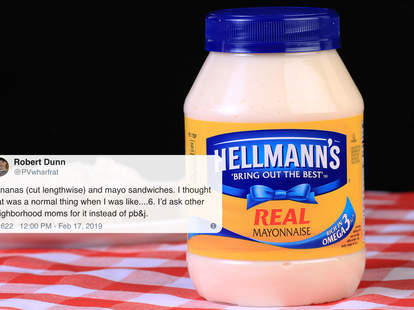 Getting a kid to try new foods can be... well, an uphill battle. However, no matter how unadventurous young people's palates seem to be, eating bizarre or downright disgusting snacks is pretty much a rite of passage when you're a kid. Though, you may feel a bit better about your nastiest snacks back in the day after reading through the weird childhood food habits people have been revealing about themselves on Twitter in recent days. 
On Sunday, a tweet from National Public Radio host Sam Sanders set off a wildly entertaining thread of confessions from people about their weirdest eating and drinking habits from when they were kids. Sanders kicked things off by volunteering his own strange penchant for carrying around a small bottle of apple cider vinegar with him everywhere, and sipping it "like a lush [with] his flask." That opened the flood gates, and hoo boy, some of them are truly nasty.
Tell me your Weirdest eating/drinking habit you had as a kid!
.
I'll go first: When I was like 8 years old, I used to carry a little bottle of apple cider vinegar around wherever I went, taking a swig every now and then like a lush w/his flask.

— Sam Sanders (@samsanders) February 17, 2019
The eye-opening habits people have replied with so far range from the wildly unappetizing ("salt and fried onion sandwiches") to the frankly deranged ("I used to eat matches"). The whole thread is an entertaining and nostalgic journey, but we've plucked out a few of the highlights.
my sister and I ate "pool chips" - tortilla chips we dipped in the swimming pool outside of our apartment and ate, religiously, for like a year.

— Rachel Charlene (@RachelCharleneL) February 18, 2019
When I went to my Granny's house, I'd put Skittles in a cup of ice water and drink it. I'd also dunk Pringles in water. 🤷‍♀️

— Mary Broome (@mabroome) February 17, 2019
1. I used to carry around a packet of Swiss miss cocoa mix and use it like chewing tobacco
2. I ate plain spaghetti in a 'sauce' of Diet Coke on more than one occasion

— Rebecca D. (@rebecca_decker) February 17, 2019
At snack time I would chew cheez-its into a pulp, store them in my cheek like a chipmunk and then go spit the mash in the toilet to see what cheezits "looked like" when they were in my stomach.

— Lauren Migaki (@lmigaki) February 17, 2019
Bananas (cut lengthwise) and mayo sandwiches. I thought that was a normal thing when I was like....6. I'd ask other neighborhood moms for it instead of pb&j.

— Robert Dunn (@PVwharfrat) February 17, 2019
When I was a kid I found out that the stretch armstrong toys had this sugary goo inside them and when I tasted it I ripped that shit open and ate them like a Zombie. My friend got mad cause I ate his. Also this one time I accidentally swallowed a Tamagotchi pet 😂😂good times. pic.twitter.com/api1g5pjRO

— 🏋🏾‍♂️Jord/Jax⚔️ (@JaxBladeFitness) February 17, 2019
After school snack: Canned green beans with a fork straight out the can, cold, then drink the green bean water.

— blank (@elaitch) February 17, 2019
Slices of individually wrapped processed American cheese singles straight from the fridge, filled with ketchup like an offensively flimsy, unnaturally orange taco. I can still taste it as I type this.

— Tim Dawkins (@TimDawks) February 17, 2019
Then again, as nasty and strange as childhood snacks could be, they're nothing compared to the terrifyingly bad meals you may encounter as an adult. 

Sign up here for our daily Thrillist email and subscribe here for our YouTube channel to get your fix of the best in food/drink/fun.