Wendy's Chicken Nuggets and Sandwiches Just Got Super Cheap
The chain's new meal deal helps you reach peak poultry for less.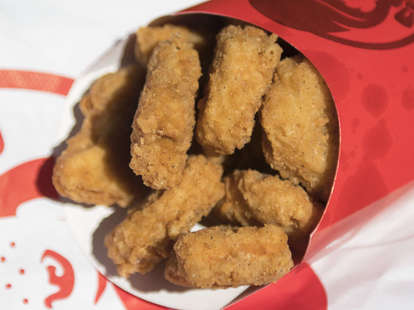 JIM WATSON/AFP/GETTY IMAGES
This week Thrillist confirmed that Wendy's has removed promotions from its mobile app due to meat supply concerns, after reports claimed that there was simply not enough beef to go around. President Trump even said in response to a meat supply question that he was "going to call Nelson Peltz," a chairman of the pig-tailed chain, to address the catastrophe at hand.
But this shortage has an undeniable plus side for poultry lovers: There are still chicken nuggets and sandwiches at Wendy's, and right now you can get two orders for only $5.
For the deal, you can choose two of any menu items listed below:
Homestyle Chicken Sandwich
Spicy Chicken Sandwich
Grilled Chicken Sandwich
10-piece Crispy Chicken Nuggets
10-piece Spicy Chicken Nuggets
To get the discount, just go through the drive-thru and mention the two for $5 deal. The offer's good at most Wendy's locations nationwide, but only for a little while (there's no clear end date).
The two for $5 deal is not a new thing, but the chicken focus is new. I'm personally thrilled to hear about the pivot. Wendy's chicken is extremely underrated, and I recall feeling betrayed by society's gentle nudge towards the McDonald's nugget the moment I bit into the spicy, crispy fowl of its competition.
Sign up here for our daily Thrillist email and subscribe here for our YouTube channel to get your fix of the best in food/drink/fun.
Ruby Anderson is a News Writer at Thrillist. Send your tips to randerson@thrillist.com.