Wendy's Has a New 2 for $5 Deal. Here's What You Can Get.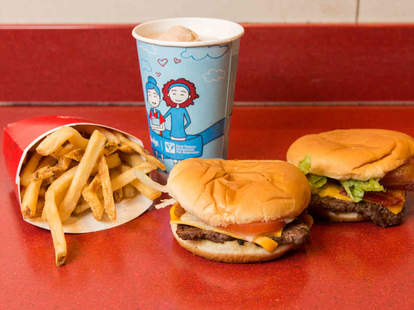 There's no such thing as a free lunch. But there is such thing as a really cheap one -- especially now that Wendy's is launching a new 2 for $5 meal. 
That's right, my hangry humans of the internet. The pigtailed fast food chain is introducing a new promotion that allows you to score two menu items for five bucks, which -- not to totally derail your whole healthy, meal prep vibe but -- might be the most cost-effective way to lunch. It's also way more fun than eating the same mundane grain bowl every single day and you know it.
While the options are limited, Wendy's chose the three menu favorites you would've opted for anyways. So it doesn't really matter now, does it? You can pick any combo of the Dave's Single, Spicy Chicken Sandwich, or 10-piece Nuggets (crispy or spicy). The offer is available for a little while and only at Wendy's locations that are in on the deal. 
Wendy's announced the news via Facebook on Tuesday, saying, "Deal so clutch you know it's gotta be Wendy's."
Now if you're one of those "breakfast is the most important meal of the day" loyalists, stay tuned. Wendy's is bringing its new and improved breakfast menu to locations nationwide in 2020. And with a Breakfast Baconator, Honey Butter Chicken Biscuit, and Frosty-ccino on deck, we just might abandon our early morning Micky D's run. We have no choice.
h/tChew Boom 
Sign up here for our daily Thrillist email and subscribe here for our YouTube channel to get your fix of the best in food/drink/fun.
Megan Schaltegger is a staff writer at Thrillist. Follow her @MegSchaltegger.