Wendy's New Bacon Fries and Sandwiches Come Loaded With Queso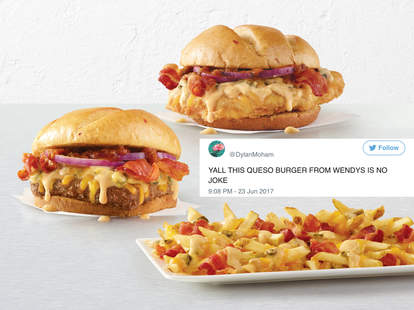 If you want to enhance an already-delightful fast-food experience, the process is simple: add bacon and add cheese. That's the line of thinking that hath wrought the latest creation from Wendy's -- a short, limited-time menu of toothsomely spicy, bacon- and queso-topped sandwiches and fries.
"We've taken three things our customers already love," said Kurt Kane, Wendy's chief concept and marketing officer, "and made them even better by adding queso."
To his point, Wendy's released a triple threat for the queso loving customers. There's the Bacon Queso Cheeseburger, which is a quarter-pound of beef, the bacon, the queso, and also salsa, red onions, and melty shredded cheddar, sandwiched between two halves of a toasted red jalapeño bun. The Bacon Queso Chicken Sandwich follows suit with the same ingredients.
Kane's not wrong, of course -- folks go bananas for queso. Even Chipotle, which said it would never add queso to its menu, is coming around. Folks have already started using the Wendy's queso as dipping sauce for chicken nuggets too. Just watch this video and check out a few of the aggressively CAPS-LOCK'd social media reactions to the menu below, if you needed any proof. While you do that, we'll be at Wendy's.
YO I JUST SAW A WENDYS COMMERCIAL AND THEY GOT 2 NEW SANDWICHES W QUESO ON THEM + BACON & QUESO FRIES N IM TRYNA GO TODAY FUCK

— Kris ♡ (@krrissaaaay) July 10, 2017