Wendy's New Buy-One-Get-One Deal Gets You $1 Baconators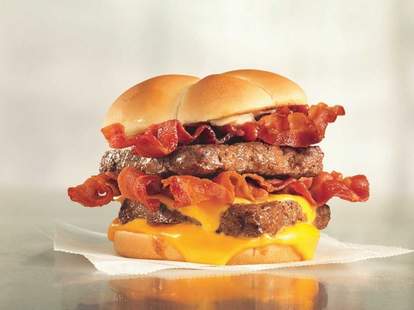 My fast food allegiances vary day to day. Sometimes I'm feeling the Big Mac, other times it's the Popeyes Chicken Sandwich, and time-to-time I crave those Jack-in-the-Box curly fries. But when Wendy's comes calling with a buy-one-get-one (BOGO) deal (on the Baconator, no less), I answer.
The new promotion is simple: buy one of the chain's iconic bacon-stacked double cheeseburgers (it'll typically run you $6.09, fyi), get another for $1. It's no freebie, but it's an objectively good deal if you're super hungry. Wendy's, of course, is pretty keen on giving you cheap food. The chain kicked off the 2 for $5 deal in October and partnered with DoorDash to give away free Double Daves that same month. Not bad.
In case you've been, I don't know, living under a rock, let me fill you in on this classic meat stack. The Baconator features two of the chain's signature square patties (totaling a half-pound of fresh beef), American cheese, six pieces of crispy applewood-smoked bacon, ketchup, and mayo on a toasted bun. It's one of those burgers that oozes streams of greasy ketchup when you bite into it.
But because a true Wendy's feast isn't complete without Frosty, it's got a little something, something extra for charitable customers. In support of the Dave Thomas Foundation for Adoption, the company is selling $2 Key Tags, which will score you free Frosty's with any purchase for the entirety of 2020. That means you can get a $0.00 Frosty now through January 31, 2020.
h/t Chew Boom
Sign up here for our daily Thrillist email and subscribe here for our YouTube channel to get your fix of the best in food/drink/fun.
Megan Schaltegger is a staff writer at Thrillist. Follow her @MegSchaltegger.