Wendy's Is Bringing Back This Bacon Cheeseburger From the '90s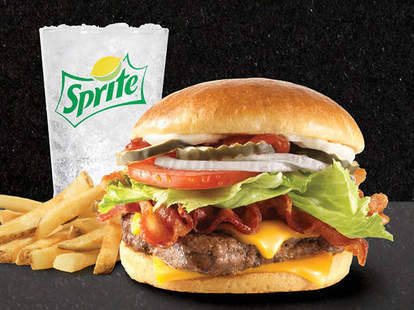 As a culture, we're preoccupied with the past. Trends come, go, and come again whether we like it or not (looking at you, low-rise jeans). And while I sincerely hope tinted sunglasses and jelly sandals remain a thing of the '90s, there is one comeback I can get behind: Wendy's iconic 1992 burger debut, the Big Bacon Classic. 
The purveyor of square patties is serving up the perfect taste of nostalgia and reintroducing the '90s favorite. On Wednesday, the chain announced the addition to its Made to Crave lineup. For the youngsters out there, let me fill you in: This meat monstrosity features all the fixings of a classic Wendy's cheeseburger -- a fresh beef patty, two slices of American cheese, lettuce, tomato, pickles, onion, ketchup, and mayo. Most importantly, it's also brimming with crispy Applewood bacon strips -- three to be exact. 
"At Wendy's, we never forget fan favorites and as a Wendy's fan, you know there's nothing better than getting a taste of something you thought was long gone," the chain said in a statement. "First introduced in 1992, the Big Bacon Classic was one of the greats for many years. We wanted to remind you OG fans that we have your backs by bringing back the beloved Big Bacon Classic."
As if a bacon-packed burger weren't enough, the chain is offering equally impressive deals on delivery right now. You can score a Free Large Fry and 2 for $10 Dave's Single Small Combos when you order through the app.
Sign up here for our daily Thrillist email and subscribe here for our YouTube channel to get your fix of the best in food/drink/fun.
Megan Schaltegger is a staff writer at Thrillist. Follow her @MegSchaltegger.