Get 5 Frosties for $1 at Wendy's With This Halloween-Themed Deal
No Wendy's trip is complete without a Frosty; creamy, smooth, and the perfect dip for fresh, hot fries. They're also a cheap addition to your order when you need a dessert with your square-shaped cheeseburgers. Thanks to the return of the chain's Halloween-themed Boo Books deal, they're even cheaper.
You can now get five Frosties from Wendy's for a single buck. That's 20 cents per Frosty (yes, math!).
For the 16th year in a row, Wendy's is selling Boo Books -- a coupon book for Frosties -- this fall to support the Dave Thomas Foundation for Adoption. Of the dollar you hand over in exchange for frozen treats, 85 cents of it will go to the foundation to benefit children in foster care. Since the fundraiser began in 2003, Wendy's has raised nearly $40 million dollars, with a goal set this year to bring in at least $3.5 million.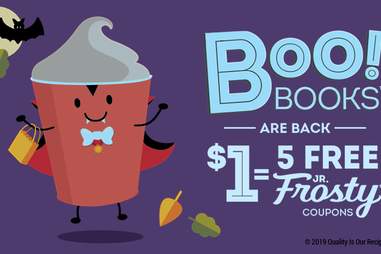 Courtesy of Wendy's
If you'd like to support Wendy's fundraising mission, you can purchase a Boo Book at Wendy's restaurants both through the kiosk and at the order counter. If you can't physically make it to a Wendys, fret not: Boo Book's may also be added to mobile orders through the Wendy's app and DoorDash. 
The coupons are limited to one use per visit, so you'll have to space out your five Frosty trips to Wendy's, but can be used until January 31, 2020. Boo Books are available for purchase now until Halloween, so hurry to get your ice cream fix and support a worthy cause.
Sign up here for our daily Thrillist email and subscribe here for our YouTube channel to get your fix of the best in food/drink/fun.
Kat Thompson is a staff writer at Thrillist. Follow her on Twitter @katthompsonn.