Wendy's New Breakfast Menu Arrives Nationwide Today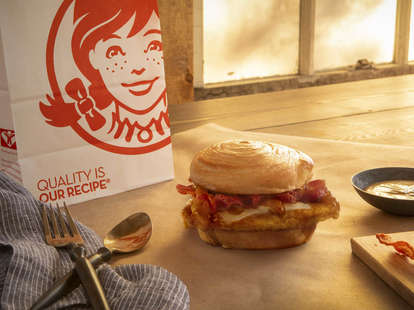 Wendy's has finally acknowledged that breakfast is the most important meal of the day. On Monday, the pigtailed fast food chain launched a fully-loaded breakfast menu nationwide, featuring sandwiches loaded with strips of bacon, sausage patties, eggs, and biscuits, of course.
The breakfast menu includes several sandwiches made with eggs, cheese, and your usual breakfast proteins like bacon and sausage. There's even a chicken biscuit smothered with honey butter. You can choose from the following:
Maple Bacon and Chicken Croissant
Sausage, Egg, & Swiss Croissant
Bacon, Egg, & Swiss Croissant
Honey Butter Chicken Biscuit
Bacon, Egg, & Cheese Biscuit
Sausage, Egg, & Cheese Biscuit
Breakfast Baconator
Classic Sausage, Egg, & Cheese Sandwich
Classic Bacon, Egg, & Cheese Sandwich
Honey Butter Biscuit
Sausage Biscuit
Sausage Egg & Cheese Burrito
In addition to the sandwiches and burrito, Wendy's has also added Frosty-ccinos to its menu in both chocolate and vanilla. A Frosty-ccino is essentially Wendy's cold brew mixed with either chocolate or vanilla Frosty mix so yes, it is officially acceptable to indulge in a Frosty before noon now.
Lastly, you can also snag a Baked Oatmeal Bar from Wendy's, loaded with cranberries and blueberries. Maybe consider that your breakfast dessert to follow up the Breakfast Baconator. Potato wedges and apple bites are available as sides.
Other fast food chains have taken notice of the arrival of Wendy's breakfast menu and are fighting be your go-to morning choice. Both Burger King and McDonald's have launched a 2 for $4 deal featuring breakfast sandwiches, and McDonald's went so far as to declare March 2 National Egg McMuffin Day with a deal for free McMuffins. Is it mere coincidence, or just an opportunity to try to outshine Wendy's big news?
Regardless of the pettiness, our fast food breakfast options just expanded and we're stoked. Besides, Wendy's already dragged McDonald's recently -- maybe everyone should just settle down a bit, enjoy a Frosty-ccino, and call it a day.
Sign up here for our daily Thrillist email and subscribe here for our YouTube channel to get your fix of the best in food/drink/fun.
Kat Thompson is a staff writer at Thrillist. Follow her on Twitter @katthompsonn.