Wendy's New App Deals Get You Free Spicy Chicken Sandwiches, Burgers & More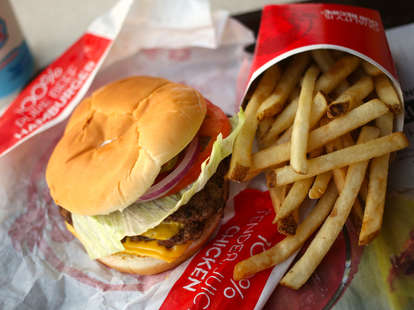 Getty Images
Getty Images
Thanks to a slew of recent giveaways from Chipotle, Chick-fil-A, Taco Bell, and several other chains over the last 11 months, 2017 has -- without a doubt -- been a damn good year for free food. Best of all, the complimentary feeding frenzy shows no signs of slowing as the year winds down, now that Wendy's has launched a new mobile app with multiple deals for free sandwiches, burgers, and more.
Just in time for the Cyber Monday shopping frenzy, Wendy's released a new version of its mobile app (for iOS and Android) on Sunday night, featuring a newly added offers section where you can score deals for free food. In fact, you'll find three digital deals currently available to redeem at Wendy's locations across the United States after you download the app or update it to the latest version: buy-one-get-one (BOGO) Dave's Single cheeseburgers, BOGO Spicy Chicken Sandwiches, and $2 off any full-sized salad. More freebies and deals are on the way, according to a press release.
"Wendy's fans can continue checking the app for exclusive offers and to find the closest restaurant," a Wendy's spokesperson said. Interestingly, the new app does not include a section dedicated to finding the latest sass and shade from the company's infamous Twitter account.
To get your hands on the free food, all you have to do is create an account in the app, find the "Offers" section on the main menu, then choose one of the three current deals to redeem at a Wendy's location or with an order placed through the app. Each digital coupon comes with an expiration date noted in the fine print, so make sure you check that out before getting too excited about double-fisting cheeseburgers.
Of course, the current deals require you to purchase a sandwich or burger to get a second one for free, but that doesn't mean there won't be offers for straight-up free food in the future. So, if you're planning to grab a Spicy Chicken Sandwich for lunch anyway, you might as well get the app and walk out with another one for free.
Sign up here for our daily Thrillist email and subscribe here for our YouTube channel to get your fix of the best in food/drink/fun.

Tony Merevick is Senior News Editor at Thrillist and may or may not have already taken advantage of the Spicy Chicken Sandwich deal. Send news tips to news@thrillist.com and follow him on Twitter @tonymerevick.