Wendy's Is Giving Out Free Chicken Nuggets This Week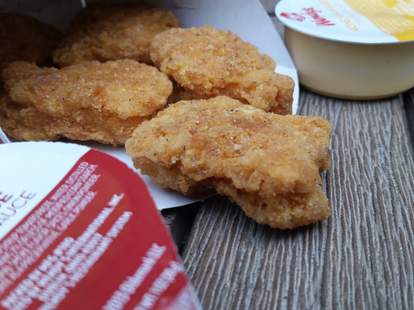 Kevin Alexander/Thrillist
In some ways, eating at Wendy's is like siding with the playground bully. However, most bullies won't offer you some of their lunch for free, and Wendy's is doing exactly that. 
The fast-food chain is once again offering free grub through its mobile app. This time, you can pick up a free four-piece order of chicken nuggets with any purchase. That means you could just ask for a small order of fries or a small drink and they'll throw some gratis chicken nuggets in the bag.
Four nuggets won't make a meal for most people, but it's a pretty decent add-on. (Even if chicken tenders beat chicken nuggets every time.)
The deal only lasts through November 4, so there's not a ton of time to take advantage of the offer. But doing it is awfully simple. Just download and open the Wendy's mobile app. Then navigate to the "offers" section and boom, nuggets.
The app is currently carrying other offers as well. You can dig up buy-one-get-one-free chicken sandwiches, $2 off any full-size salad, $2 off any premium combo, or a $5 Dave's Double combo. All of those deals last through November 4. It's a hell of a lot easier than how this dude got himself a free flight to Chicago. 
Want more free food and food deals? Here's our running list of all the
free food
you can get right now. We even have a roundup of
the best pizza deals
you can get from national chains. You're welcome.
Sign up here for our daily Thrillist email and subscribe here for our YouTube channel to get your fix of the best in food/drink/fun.