Wendy's Is Giving Out Free Fries for a Week Starting Friday the 13th
Wendy's is dishing up free fries for a week in January.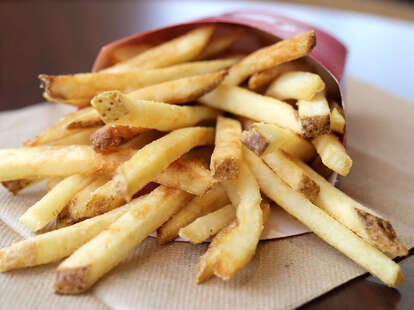 DEUTSCHLANDREFORM/Shutterstock
DEUTSCHLANDREFORM/Shutterstock
It's not quite a Friday the 13th promotion, even if it encompasses Friday the 13th. Still, fans of Jason, horror movies in general, and flash tattoos can call this another way to celebrate the infrequent holiday for the superstitious.
Wendy's has announced plans to dish up a free order of fries with any purchase made through its mobile app. It'll be serving the add-on from January 13 to January 19. there's nothing else to it. You just make a purchase in the app and add this offer from the deals section. Then you're eating those new-ish-recipe fries.
Of course, this is Wendy's, so free fries are far from the only discount out there. Throughout January, you'll be able to grab a $1 Spicy or Crispy Chicken Sandwich when you buy another at full price. If it's too early in the day for a Chicken Sandwich, you can trim $2 off any Breakfast Combo through January 31. Also, for the diner who will not be constrained by the limitations of eating in a car, you can grab a free small order of Chili through the app any day until January 15.
So many options, all of which should come with fries.