You Can Get a Free Frosty & Fries from Wendy's Right Now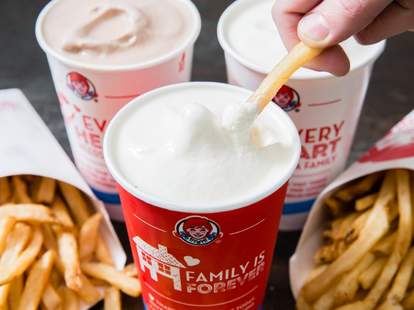 Dipping French fries in a Frosty at Wendy's isn't just a weird thing people do instead of using a perfectly good spoon, it's actually a powerful flavor pairing that's legit backed by science. And while we can't find a scientific study that says the popular combo will taste even better if you don't have to pay for it, we're just going to go out on a limb and say that it will. Well, starting on Tuesday, you can find out for yourself, with a new deal for free fries and a Frosty from Wendy's. 
That's right: you can get a Frosty and an order of fries for free, and better yet, delivered right to your door. The deal comes from the popular delivery app Postmates, which offers food, drinks, and even grocery delivery services in 385 cities and markets across the United States. To take advantage of the sweet and savory offer, all you have to do is use the Postmates app or desktop site to find your nearest Wendy's location, and you'll be able to select both a Frosty and an order of fries for zero dollars. Perhaps the only difficult thing about it is choosing between a vanilla Frosty or a chocolate Frosty. Good luck with that.
Postmates
The free snack/dessert deal comes with a bit of fine print, though. As you may know, Postmates charges a $3.99 delivery fee and it will also tack on a $1.99 "smart cart" fee if your order subtotal is under $10. In other words, you're probably going to need to order a bit more than just the Frosty and fries in order to make the freebies worth it, unless you think $6 is a fair price for the convenience of getting Wendy's delivered so you can enjoy it in the privacy of your home. Adding a Baconator and a Spicy Chicken Sandwich got us over the $10 threshold when creating an order from a Wendy's location in New York City, though that ends up being kind of a lot of food.
Thankfully, it seems like you have time to figure this out. Postmates said the deal is available for "a limited time" but offered no specific end date. In any case, there are plenty of other free food deals to be had this month. 
Sign up here for our daily Thrillist email and subscribe here for our YouTube channel to get your fix of the best in food/drink/fun.

Tony Merevick is Senior News Editor at Thrillist and could really go for some fries right now. Send news tips to news@thrillist.com and follow him on Twitter @tonymerevick.